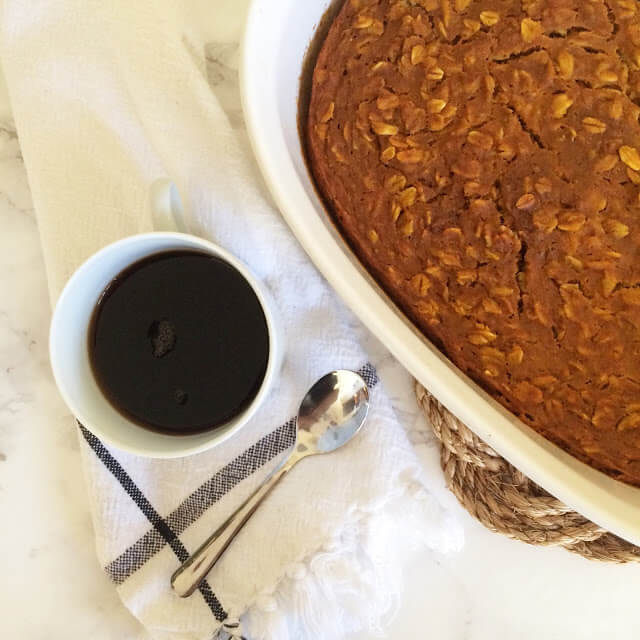 The mornings have been wonderfully crisp the past few days and just begging for a warm breakfast. I've been itching to make baked oatmeal after having it at a girlfriends house for brunch. It's cake-like, but much healthier!
There are many versions of baked oatmeal, but I couldn't resist making it with pumpkin to welcome the fall season. It made the house smell incredible and it was sooo good that we made it twice this week. I'm sure that I'll be experimenting with other flavor combinations soon. We ate it warm the first day, but it can keep in the fridge for up to 5 days and also be enjoyed at room temperature. It's a great make-ahead breakfast you can enjoy all week. Having something healthy pre-made on busy mornings makes me so happy.
The pumpkin baked oatmeal is 100% toddler approved! It was not only easy and fun for James Robert to help me make, but he gobbled it up every morning this week without knowing how healthy it is! And I love it because it feels indulgent and keeps me satisfied well into the morning.
Pumpkin Baked Oatmeal Recipe:
(adapted from Apple of My Eye)
Ingredients:
2 1/4 cup old fashion oats (you can use quick cook, but decrease cooking time)
1 teaspoon baking powder
1 teaspoon cinnamon
1/2 teaspoon nutmeg (or pumpkin pie spice)
1/2 teaspoon salt
1/3 cup brown sugar lightly packed
1 1/2 cups of milk
1 15oz can of pumpkin puree
1 egg
1 tablespoon vanilla extract
3 tablespoons honey
2 tablespoons chia seeds
Directions:
1) Preheat oven to 375 degrees
2) In a large bowl mix together the dry ingredients (oats, baking powder, cinnamon, nutmeg, salt and brown sugar, chia seeds)
3) In a separate bowl whisk together the wet ingredients (milk, pumpkin, egg, vanilla, honey)
4) Add wet ingredients to dry and mix until incorporated
5) Pour into a greased 2 quart baking dish
6) Bake for 50-60 minutes