My friend Whitney, from
blis boutique
, has the best entertaining ideas; remember
this
and
this
? Well she's back to share another- thanks Whitney!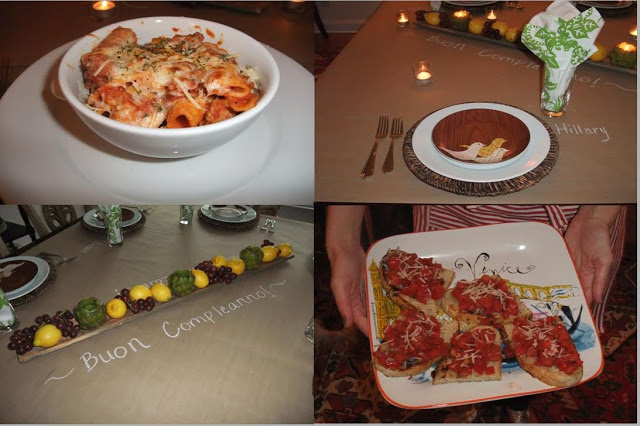 Hosting a birthday dinner, super club or casual Friday night dinner, come up with a simple theme and it will help you tie all the creative touches in together.
Here I hosted a birthday dinner for 6 people. I wanted to cook an Italian pasta and vua-lah my theme was created! I used a platter I had in my kitchen to tie into the theme, created a fresh yet Tuscan feel center piece, served Italian wines and played Italian tunes!! To change up my dining room table I covered it in brown paper and wrote on it in chalk for the guest's place cards and the finishing touches of the center piece!
Other fun theme ideas ~
*Serve only apps for dinner *Having friends over to watch a football game theme the food according to the team(s) ex: Atlanta Falcons serve Fried Chicken / Greenbay Packers serve gourmet grilled cheese sandwiches *Fall time dinner party serve 2 or 3 different types of chili or soups with all the fun toppings such as cheese, bacon, green onions, sour cream...