I'm a bit in denial that we will be moving at the end of this week. There are so many things to do before then! But before everything is packed up, it was important to me to document Thomas' nursery. It is such a special room because it is his first.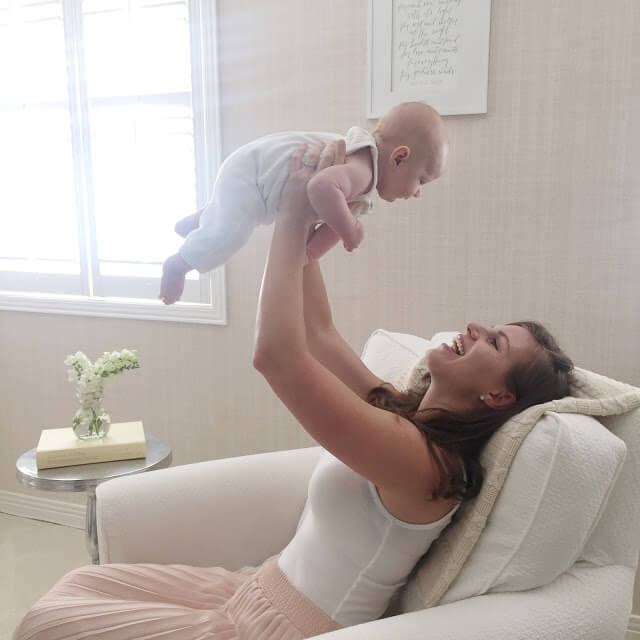 I'm so grateful that I had taken the time to photograph James Robert's room so that even after we moved, I could remember fondly all of the details (more on that here). And I couldn't not do that for Thomas!
We currently live in a rental, so decorating this nursery had more restrictions in terms of what I could change and do. Also, because I knew we would be in it for a limited time, I didn't want to invest heavily or make too many holes in the wall.
Many of the pieces in his room are repurposed from James Robert's nursery or other rooms from our previous house. The nursery together organically mixing what we had on hand which further supports my theory that if you only buy what you love, it will have longevity and you'll always be able to find a spot for it.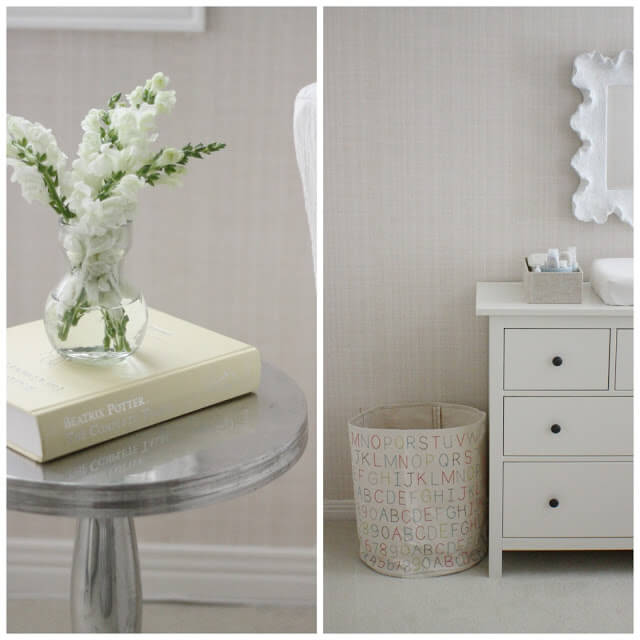 I got lucky with the natural grass cloth wallpaper in this room. It adds a lot of texture to the space and allowed me to get away with less on the walls. I love how cozy it feels!
My original inspiration was here. And the end result is close to what I had in mind. It is simple, mostly neutral but full of sentiment. For example, the print is a special prayer from Brim Papery and the cable knit blanket from Boll and Branch is a sweet gift from Thomas' Aunt and Uncle.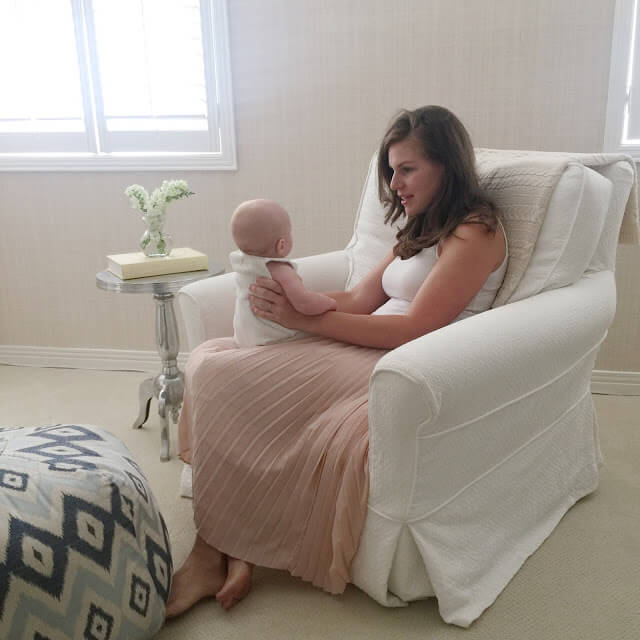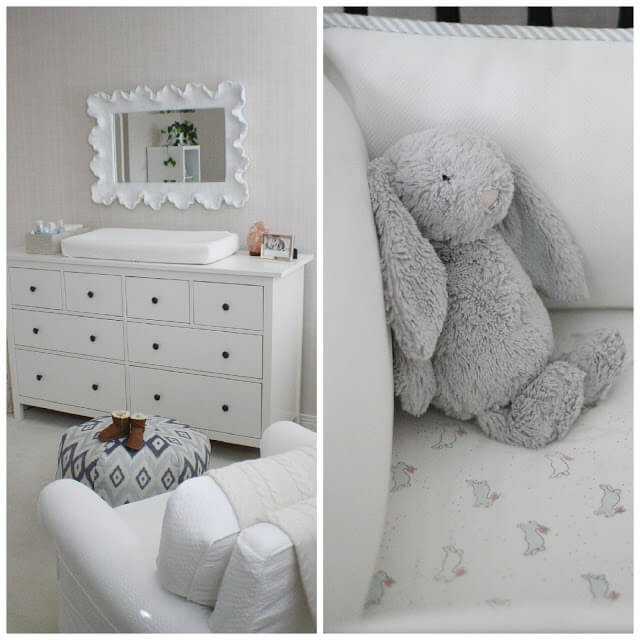 I did get a few new items for Thomas' nursery such as the crib sheet; I'm absolutely smitten with the bunny crib sheet from Pehr Designs.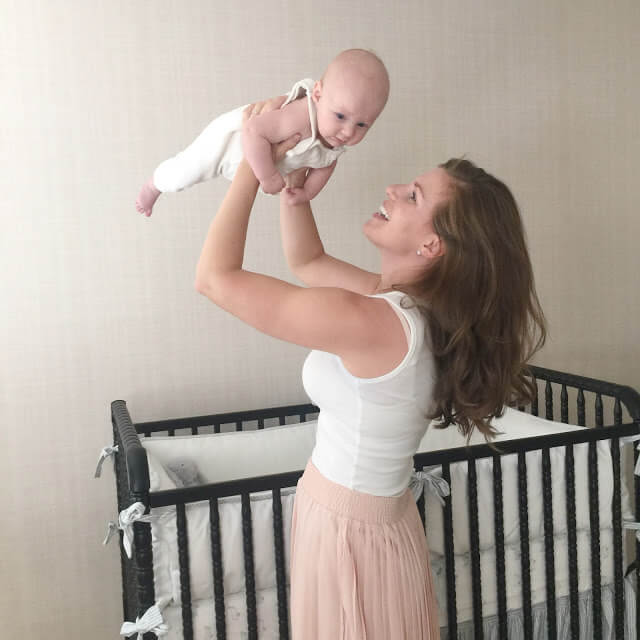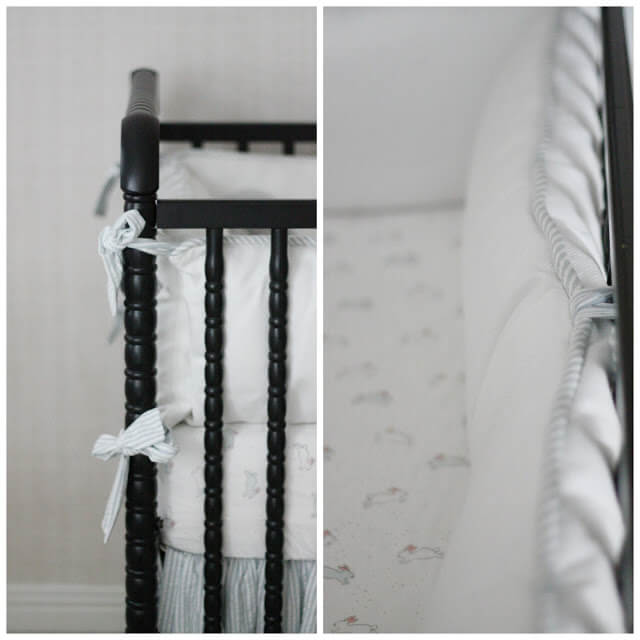 And I love using fabric bins to add additional pattern to the room. I was gifted a collection of small gray and white ones which house toys and little baby gear (similar size and pattern here). I use the larger size for a hamper. Also, I can't underestimate the power of adding plants to a room. Not only is it a boost for air quality, but it makes everything else come alive too.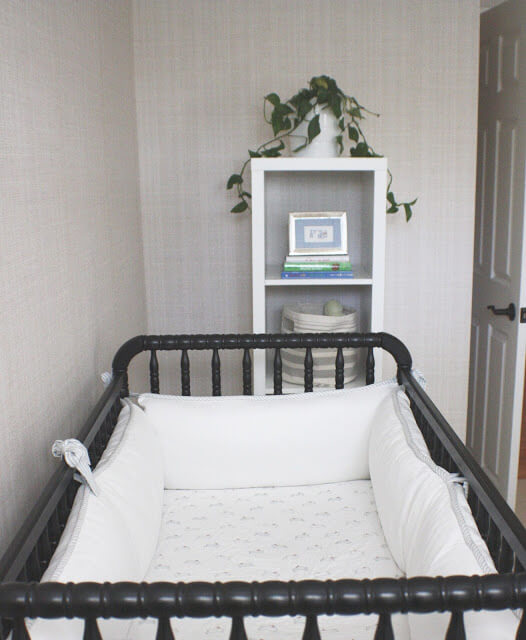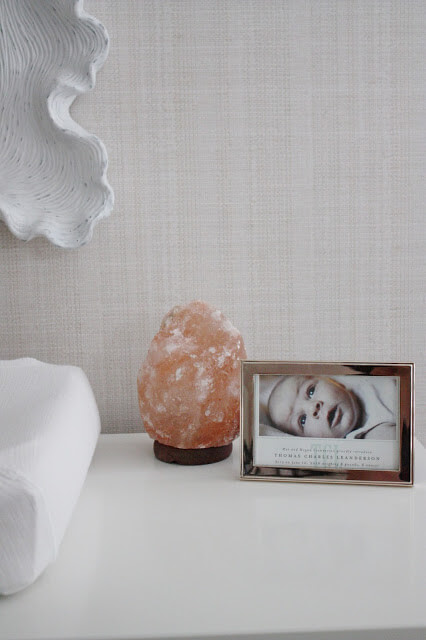 The salt lamp really is one of my favorite things in the whole room. It has the perfect amount of soft light so that when I turn it on for middle of the night nursing sessions, it doesn't completely wake either of us up. Plus I love the idea that the negative ions released are able to promote sleep, increase the levels of serotonin in the brain and calm allergy and asthma symptoms. All great things for a nursery.
I can hardly believe how little Thomas seems in his birth announcement already; I love the way they turned out. They are from Minted.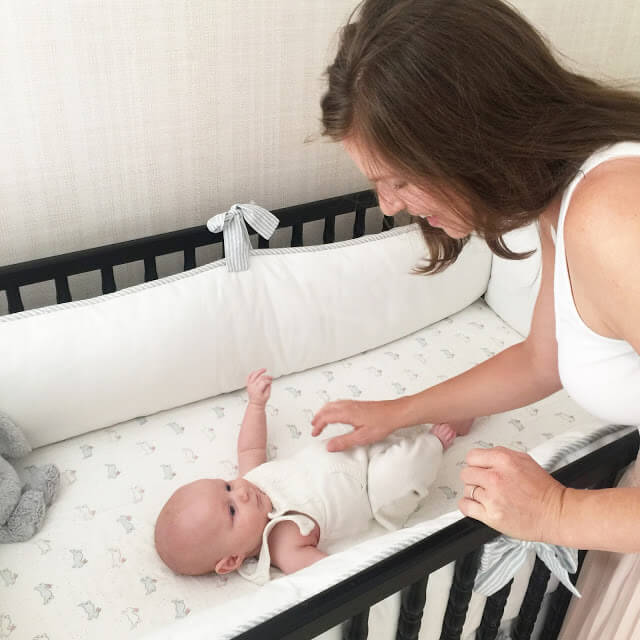 Most importantly, Thomas really started to thrive in this little room and it has been a space of such sweet memories.
I've included as many of the sources as possible below, but as always, please feel free to email me questions or leave a comment below and I'll do my best to answer your questions.
Sources:
Ikea Dresser, salt lamp, Ballard Design Mirror, Crib, Custom bed skirt and bumpers, Pehr Design Bunny Crib Sheet, Pehr Designs ABC fabric bin, Stuffed Bunny, Custom Glider, Ikat Ottoman, Brim Papery Print, Boll & Branch Knitted Throw Blanket