I can't believe I'm officially in the third trimester of this pregnancy as of tomorrow! And I think a bit of nesting has kicked-in because this week, I felt compelled to pull together some nursery ideas for baby boy #2. He won't be in the nursery right away, but it's so fun to start dreaming and collecting ideas for when he is.
I have a lot of items that I'm going to reuse from James Robert's nursery (
see it here
). The glider, crib and custom seersucker bedding are all things that were excellent investments the first time around that I'll happily be using again.
We are in a new house and the room that is available to make into the nursery luckily has really pretty grasscloth wallpaper on the walls that are neutral and give a lot of texture. I'm not going for a theme, but I am obsessed with
Lullie Wallace
and when I saw on her Instagram that she is doing a series of
alphabet animals
, my wheels immediately started turning.
I love the soothing colors and movement in her prints and so that was a jumping-off point to add a few other things to the mix. Here's what I've come up with so far!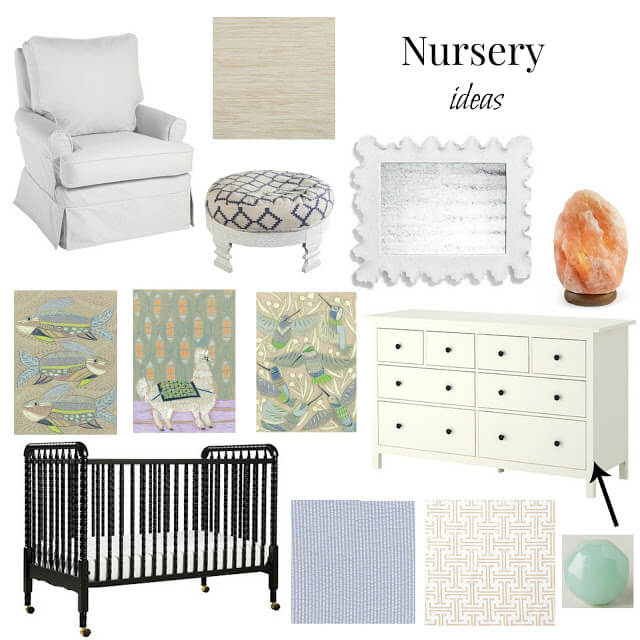 custom glider, ottoman, mirror, dresser, knobs for dresser, crib, crib sheets, art prints, salt lamp
P.S. I had to include the salt lamp in my planning; after
reading Robin's review,
I've been so excited to try one in the nursery, especially since they have a dimmer. They are pretty and have such a nice function. Have you used one?