I sometimes hesitate to share my recipes here as they are so often a conglomeration of a couple different recipes I read. My style of cooking leans heavily on my own interpretation and sometimes I can't remember exactly what I did.
James Robert has been a bit under the weather, so this past Sunday I made a big batch of chicken noodle soup. It was heralded as my "best ever". So in an effort to remember the recipe and pay it forward, I wanted to share what I did this time around.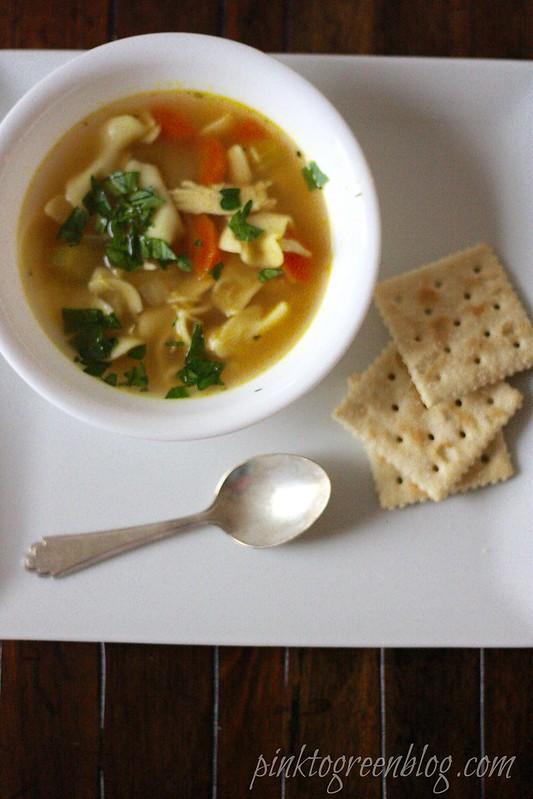 Besides, chicken noodle soup is one of those things that doesn't need to be to the T. With endless delicious iterations, I hope you can find this a jumping off point to be tweaked with your favorite embellishments.
Of note, I have been adding turmeric to the broth for the added immune boosting properties. I would highly recommend this addition to your next chicken noodle soup as the flavour and benefits have been a fast favorite.
Everyone has their own desired broth to noodle/chicken ratio. In my family that can be highly contested, so this recipe is easily adaptable to add more or less of your favorites. Also, if you want to add more veggies, we've done that too with delicious results. James Robert loves okra, so if we have some, I usually add a few handfuls of that too.
This recipe easily serves 3-4 for dinner with leftovers for the rest of the week!
Our Favorite Chicken Noodle Soup:
3-4 cloves of garlic chopped
1 small yellow onion chopped (about 1/2 cup)
2-3 sticks of celery chopped
Dash of Herbes de Provence
1/4-1/2 Teaspoon Turmeric
4-5 big handfuls of your favorite egg noodle
1-2 cups of shredded chicken
chopped parsley for garnish
Poach 2 chicken breasts in boiling water. Add the chicken breasts to boiling, salted water (I also add a few bay leaves to mine) and let simmer for about 20-25 minutes. Once cooked, shred the chicken and set aside. If you have leftovers they are delicious for chicken salad the next day.

In a large heavy-bottom pot, add the butter and oil. Once warm, add the garlic, onions, a dash of S&P and let saute for about 5 minutes. Add the carrots and celery and continue to saute for another 5 minutes or so. At this point, I add a dash of Herbes de Provence.

Add about half the broth (3 cups or so) to cover the veggies and let them simmer until soft or about 15-20 minutes.

Add the rest of the broth and noodles and let them cook until soft which is about 8 minutes.

Add the shredded chicken.

At this point add the turmeric and then taste to adjust seasoning and add more Salt and Pepper as desired.

Serve with a garnish of parsley and your favorite crackers.