Within the past few weeks, we have been dealing with strep throat, hand foot and mouth and then there was a breakout of fifths disease at James Robert's school (I had never heard of this before)! It's so hard to be pregnant and care for a sick family; I fought wanting to help, but wanting to protect myself (apparently fifths disease can be dangerous for pregnant women).
So needless to say, I've in de-germ mode around here. Thankfully, everyone is feeling better, but this cleaner is still something I use daily to swipe our most-touched surfaces. I shared this "recipe" on snapchat recently (meg_leanderson) and got a few questions, so I thought I'd answer them here.
I never thought I would be the type to make my own cleaner, but after making this once I was hooked. The smell is so much better than anything I've ever bought from the store.
I'm also totally in love with the fact that it is safe and effective (the essential oils help kill germs). It's a peace of mind to know you're spraying something that is safe with little one's around. There is something about knowing exactly goes in it that makes me feel great!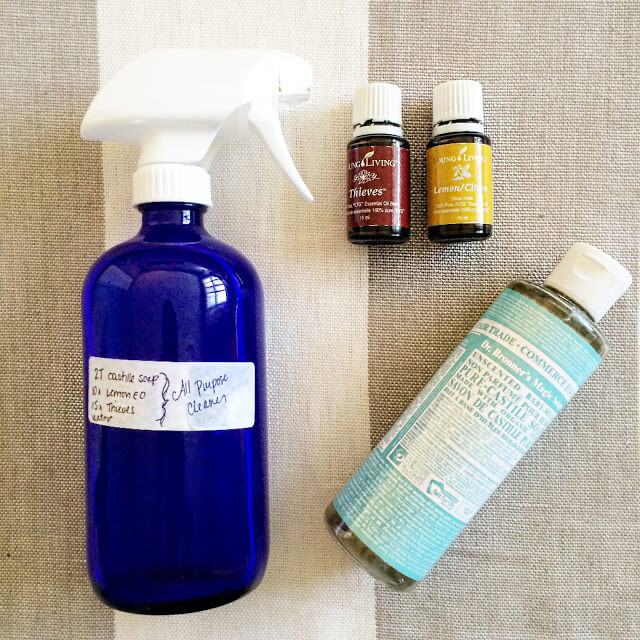 Recipe:
2 Tablespoons of Castile Soap
10 drops of lemon essential oil
15 drops of thieves essential oil
fill the rest with water
Notes:
You'll want to use a glass bottle for mixing this cleaner because essential oils can leach into plastic. I got mine from here.
I love Dr. Bronners Castile Soap for so many things; you won't regret getting a bottle.