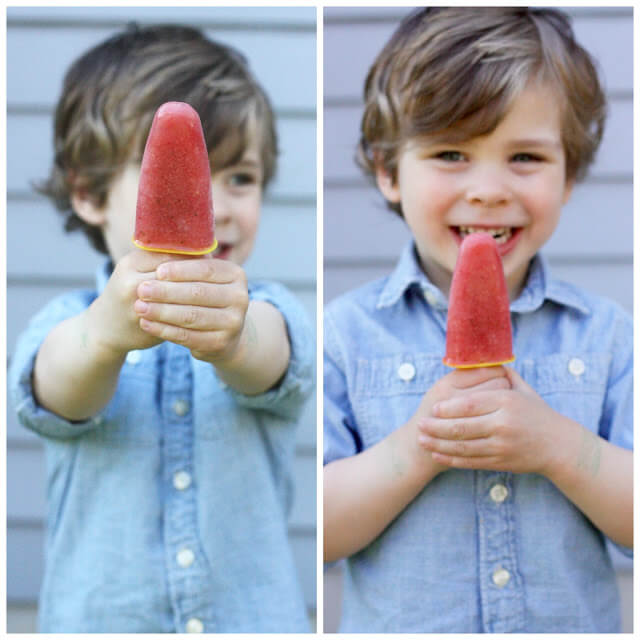 There has been a constant supply of watermelon in my refrigerator over the past couple weeks; I can't get enough! I think it may be my biggest pregnancy craving of all. I've been adding it to my water to infuse the flavor, eating it by the bowl full and most recently making these watermelon and strawberry popsicles.
If watermelon doesn't scream summertime, I don't know what does. And with Memorial Day in the not-too distant future, these could be a great addition to a BBQ.
If you follow me on snapchat (meg_leanderson), you saw that I was experimenting with some homemade popsicle recipes. James Robert has been begging to make them, so with all my watermelon in the fridge, I thought it would be the perfect time to try!
I've been
pinning
away homemade popsicle ideas, but ultimately went with the easiest and healthiest version I could find- this requires only 3 ingredients and they are lower in sugar than most which make them a treat I feel good about giving and enjoying myself.
We used watermelon, strawberries and a little bit of maple syrup for sweetening. Mix that all up in a blender (I love our
ninja
) and then pour into your desired molds.
Recipe:
I don't have precise measurements for this, but that was the beauty, you really don't need them; you can't really mess this up! For the small popsicle molds, I used about 2 cups of chopped watermelon (seedless) and about 1 cup of strawberries, hulled and about 2 tablespoons of maple syrup.
My mother-in-law found
these
popsicle molds at Ikea, which I really like because they are the perfect size for toddlers (not too big). But I also have my eyes on a
set of these
; we received one from a birthday party gift bag and they are also a good size plus really cute!
PS. I have updated my recipe index with the most recent recipes
here
!