My c-section is scheduled for June 10th, and I hope to make it until that date! But, just in case, I started putting together my hospital bag this week (thanks for all the feedback over on snapchat: meg_leanderson). The first time around, I packed more than I needed and I wasn't planning on having a C-section. Taking that experience into consideration, I created a checklist for my hospital bag and made it downloadable for anyone else who may be packing their bags too!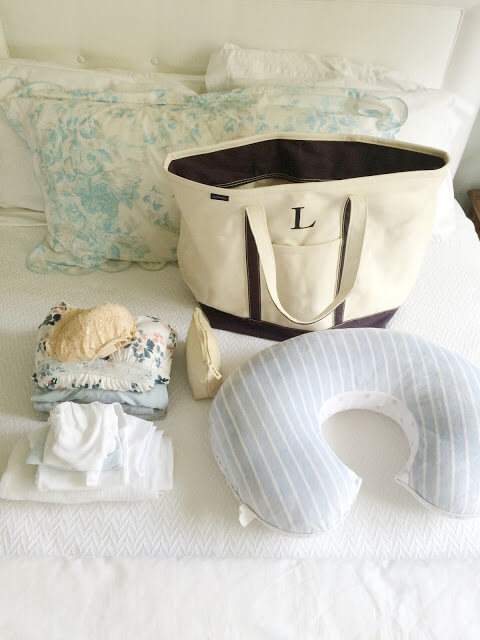 Some of my favorite items:
Bag-
I love the
canvas zip top bags
from Land's End. They are very similar to the LL Bean boat and totes, but I like this version better because of the zip top, interior pockets which are convenient for packing and the front exterior pocket. This one is a size XL and it should fit all of my stuff and the baby's.
Right now they are on sale
!
Nursing bra-
these
from cosabella are my new favorites
Nursing and C-section friendly PJs-
I love
this one
because it will be flowy over my stomach and is nursing friendly; it also came with a cute robe. And I love night shirts l
ike this
.
Tips:
-The first time around I ordered a
Bravado nursing tank
only to end up in tears at the hospital to find it was too small for me a few days after the baby. While it ended up being great in the longer term, I would recommend purchasing a cheaper one in a larger size for immediately post baby. Target has some great options.
-Going to the bathroom can be a traumatic experience after a c-section and is necessary before leaving the hospital. Probiotics and fiber supplements are a girls best friend; I'll likely be bringing those to the hospital too.
I am hopeful that with some foresight and mental preparation, this will be a smoother experience than with James Robert. Last time, I was in labor for 27 hours before being rushed into a c-section; this time, it feels like a luxury to know the date and be able to plan. And because regardless of how a baby is delivered, it is an incredible celebration, I'll be packing the bubbles this time too!
(click image to view larger, download or print)
Download or prink checklist
here
.