Thank you to the Chic Coles for giving me the Honest Scrap Blog Award!
Here are the rules I must follow, upon receiving this award:
Say thanks and give a link to the presenter of the award.

Share "10 Honest Things" about myself.

Present this award to 7 others whose blogs I find brilliant in content and/or design, or those who have encouraged me.

Tell those 7 people they've been awarded HONEST SCRAP and inform them of these guidelines in receiving.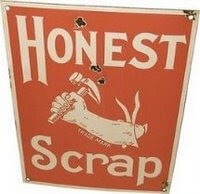 In the spirit of fun Fridays, here are some honest things about me:
1) I am a lefty—so is my Mom, sister and husband. Look out when eating dinner with us if you are right handed!
2) Learning to ski is at the top of my list, but as we discovered last year, I'm terrified of ski lifts….
3) I studied abroad in Florence, Italy as an undergrad and am still under the spell of La Dolce Vita. (My parents are in Italy right now and I'm so jealous!) If I could get away with riding a vespa or driving a jolly fiat in Charlotte I would, until then I watch Everyday Italian and drink prosecco as much as possible.
4) My sister is my hero. 5) Besides yoga, Zumba is becoming one of my favorite activities!
6) Some of my happiest memories are SCUBA diving. (Also some of my scariest)
7) I fell in love with a Great Dane puppy last week and can't stop thinking about her.
8) Every time I go shopping, I end up with a white tee-shirt.
9) I LOVE coconut desserts: coconut cake, almond joy, coconut macaroons are the best
10) There are plenty of times that I get to the store and realize that I forgot my reusable bags, but I like to think that working to take small green steps each week all add up

I would like to present the Honest Scrap Award to anyone who would like to play along! Thanks again, Chic Coles, have a wonderful weekend!!