Oh July, how we love you. The past few weeks have been filled with gorgeous weather, hydrangeas, good food and we snuck in a 4th of July trip to Northern Michigan.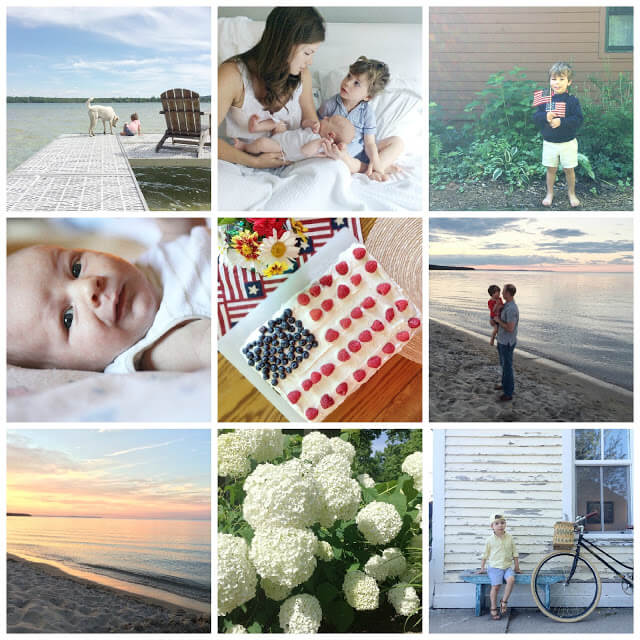 I have sat down to write this post no less than five times without being able to complete it. Such is life these days! I think of a million posts I want to write, but have so little time to execute them. Today is what I hope to be the inaugural post in a series I'll call Snapshot. It's a quick capture of life lately. I love reading other bloggers posts like this and hope you will too.
Reading: I have taken over Mat's kindle as the best way to read while nursing late at night. I'm half-way through The Nest which is an easy, light-hearted summer read.
Listening: While on our road trip last week, we tried a children's audible book, Journey to the River Sea and all enjoyed listening to it!
Eating: Quick and easy is the name of the game as I adjust to squeezing in cooking with 2 kids (so much harder than I thought). Overnight oats have continued to be a wonderful way to prepare a healthy breakfast the night before. I recently leaned a new trick of adding kiefer as a substitute or in addition to the almond milk. It's a great way to add flavor and provide probiotics!
Playing: We can't get enough of the splash pads this time of year. But when at home, I'm trying to provide James Robert ways to be entertained while I nurse Thomas. One of the board games we really like it Count Your Chickens which teaches cooperation and counting in a fun way.
Coveting: Everything from Jewels & Aces collection of everyday essential jewelry.
Watching: After binge watching the second season of Bloodline, we're catching up on Homeland (OMG!)