Happy Friday! Mother's Day is right around the corner and I wanted to share with you some of my favorite gift ideas including a gracious discount with a wonderful artist who does custom portraits (see below).
While the sentiment behind Mother's Day is what makes it truly special; I don't know a Mom out there who doesn't deserve a token of appreciation. Candles, jewelry and flowers may not be outside of the box, but I think these picks are the cream of the crop: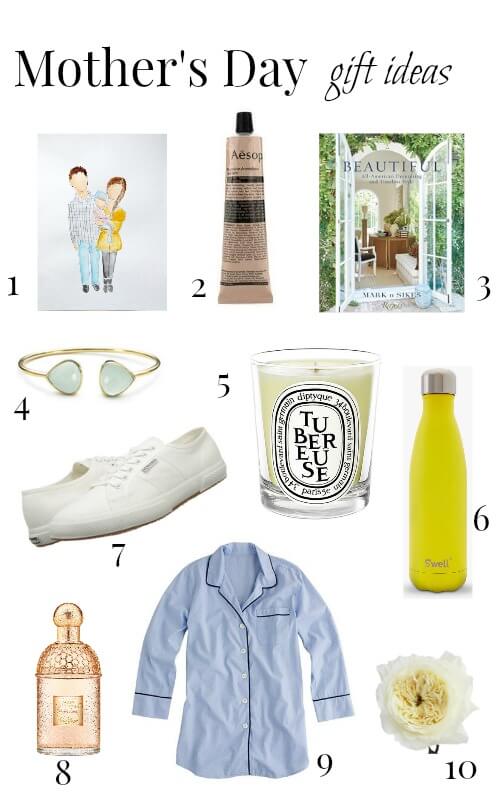 1) Custom Family or Child Portrait: A sentimental and personal gift like a custom portrait is something every mother would love. I adore the work of

Lachlan and Lenny

; the whimsical interpretations and colors are beautiful!

And she is kindly offering my readers a discount for Mother's Day! Use the code PINKTOGREEN15 for 15% off your order!
2) Beauty products: This hand cream from Aesop is useful but far from pedestrian. Their products make everything feel luxurious.
3) Coffee table books: I'm anxiously awaiting the publication of Mark D. Sike's book, All-American Decorating . It would be such a nice addition to a coffee table or bookshelf.


5) Candles: Spoil her with the holy grail of candles, Diptyque.


6) Pretty Water Bottle: The one's from S'well have been on my radar for a while. They keep things hot or cold, come in the best colors and patterns and their slim fit would be an easy addition to a diaper bag or purse.
7) Cute flats: What Mom doesn't love shoes? These classic spring kicks from Superga are at the top of my list!
8) Perfume: While this is personal to many women, I recently smelled this one while at Duty Free and was huffing the sample card the entire flight home. It's light, springy and seems universally flattering.
9) Sleepware: Spring and summer are the perfect time for wearing men's inspired sleep shirts. This one from JCrew is supposed to be very comfy and monogram-able!
10) Flowers: Mat never fails to be amazed at the power of flowers. Call me simple, but white roses are my love language. What are yours?