It's a boy! And I still feel surprised by the news!
Mat is more shocked than I am- he was convinced that this baby was a girl. But I have easily slipped into the happy reality of adding another little boy to our mix.
My Gram was the mother to three boys. She often used to joke with me that one day I would end up with a house full of boys too.
So, in that darkened room, when the ultrasound technician confidently proclaimed the anatomy to be male- I couldn't help but tear up about my Grandmother's prediction.
Admittedly, I had been fondly looking at girls dresses and dreaming about how it would be to play with dolls and girly things. But there also isn't one ounce of disappointment in learning that our sweet baby will be a boy.
James Robert spoils me silly with affection and love. He has taught me about the tenderness that hides on the other side of the messy rough-and-tumble of boyhood. The bond between a mother and son really is special. And I feel so grateful that I will now have the opportunity to raise two sons.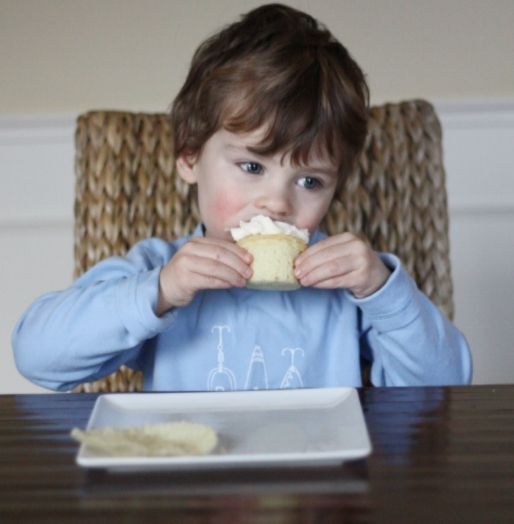 This past Friday, it was a weight of relief to hear that the baby looked healthy and things are progressing well with my pregnancy.
Moreover, the joy of our baby boy news has had me a bit nostalgic about this incredible journey.
We brought home a gender reveal cupcake for James Robert to eat. And while he was a bit confused about the color of the icing (and infinitely more interested in consuming the sugar), he is so excited to be a big brother. I am so happy thinking about him having a brother to play with as he grows up.
Henceforth, there will not be a day that goes by that I do not thank god for the privilege of being the mother to boys. My greatest dream will be to raise sons who are loving, independent, curious, respectful men like their father. What an incredible dream to chase.
Bring on the rambunctious energy and physicality of little boys. Bring on the dirt-digging, train-playing and ever sweet hugs of baby blue!