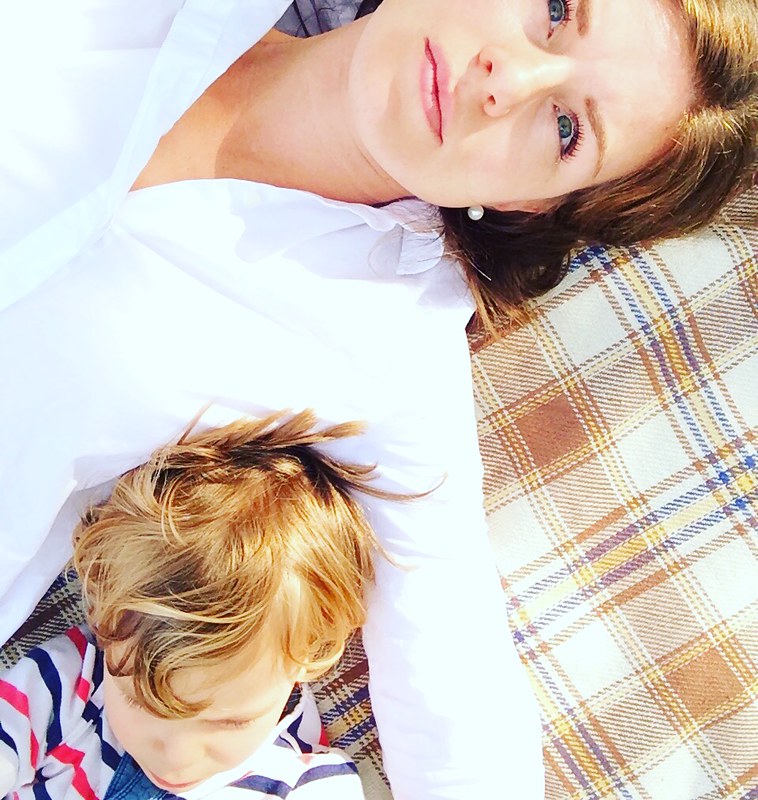 Around 7:30PM, I reach some type of internal threshold of mommy patience. I'm weary of requests, over the tantrums and some nights downright exhausted.
One particularly trying night, after a particularly chaotic day, we were completing James Robert's bedtime routine and I felt myself dreading, what I was sure to be, a struggle to put him to bed.
We read books, drank our water and turned off the lights.
In the face of my expectations, what he did next seemed like the ultimate gift.
His energy shifted. His little arms threaded around my neck in a firm grasp and he proceeded to layer my face with acoustic kisses. Surprisingly, he then lay his head down on the pillow next to mine and asked me to stay for one more minute.
We had arrived at a moment of peace and calm in the otherwise crazy storm of toddler parenting.
It doesn't happen like this every night (we're talking about a toddler after all). But there are so many nights that I reach the end of my rope, only to be utterly surprised and humbled by the act of putting my son to sleep and the reprieve of our one more minute.
So, I indulge this nighttime request.
In fact, I live for the "one more minute" when he lovingly asks.
I live for those 60 seconds of the day that last longer than all the rest.
No matter how many other things went wrong outside of that room, when my son wants to share his pillow and I can listen to his breathing slow, the day feels successful.
This ritual is mutually beneficial. I know that when his younger sibling arrives, our nightly routine may be interrupted.
So for now, I soak in our minutes of sleepy revelry.
I bask in the toddler thoughts that are shared moments before slumber.
I very much relish the physical closeness of my child who still wants to be held by his mama. At the end of our minute, he is refreshed and subdued and ready for bed. At the end of our minute, I am refreshed, grateful and excited to tackle another day.
Especially at this time of year, I crave the stillness and peace of these moments. With toddler-hood has come a burgeoning and beautiful energy that leaves much less time for intimate connection than the baby stage.
Some days I adore how much we are able to do together now that he has more abilities and energy.
But some days, I terribly miss the less tantrum-y, less messy, less chaotic times.
For each stage of motherhood, I know there will be new challenges.
The only constant being change.
But I do also know, that those moments of tender calmness, so often right before bed, are the moments that we need to grasp and hold tight to.
Our children need it- and so do we.
This week, as we prepare our hearts and homes to celebrate Christmas, I look forward to holding those moments a little tighter.
This time of year can feel so much like the end-of-the-evening threshold of putting a toddler to sleep.
Perhaps you feel your limit being reached too?
The wonderful but frenetic energy of this holiday time can be beautiful and exhausting.
We stare down the barrel of a new year, rushing to get everything done and cross things off our list.
Whatever your family traditions are, whatever you celebrate, I hope that this season is punctuated by moments of quiet and calm.
Some may fly in the face of your expectations—I hope you preserve them with the gift of presence.
I know this week can feel like the 7:30PM threshold. Perhaps the lesson my toddler is teaching me is that there can be calm in the chaos--sometimes we all just need one more minute.
We all need 60 seconds of quiet, to reflect and find peace and calm in this busy season.
Perhaps the lesson to my toddler is teaching me is that the opportunities to do so may be fleeting, but if cherished, they can provide the most lasting impact.
To the mamas reading this, my Christmas wish for you is to take "one more minute", whatever that looks like for you. I hope it leaves you feeling refreshed, grateful and excited to tackle another day.