I'm thrilled to introduce my friend Maria as a guest blogger today; I'm so lucky to have met a friend like her since moving to Charlotte. Besides swapping recipe ideas on a near daily basis, I'm always gaining inspiration from her house flipping stories. She blogs about both, so hope you'll check them out
here
and
here
....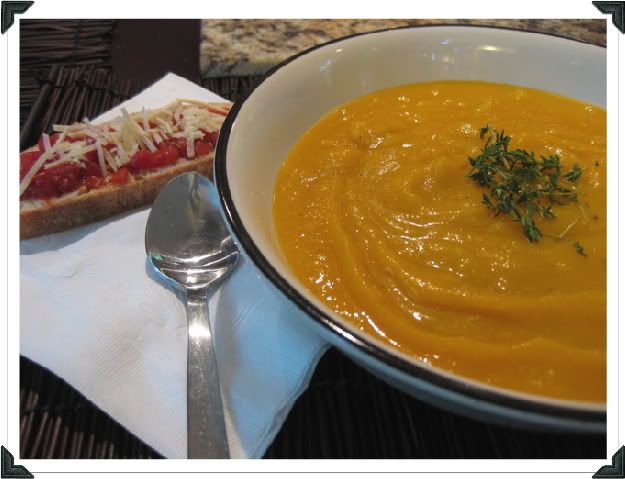 Hi, I'm Maria from
And Schnitzel with Noodles
and I'm excited to be blogging for
Meatless Monday
while Megan is on vacation this week. I love to cook and recently decided to start a blog dedicated to posting delicious recipes. This is one of my favorites and it is great year round...
Ingredients
2 butternut squash (about 4 3/4 pounds total), halved lengthwise, seeded
2 tablespoons vegetable oil
2 cups thinly sliced onion
1 tablespoon golden brown sugar
2 teaspoons minced fresh ginger
2 garlic cloves, coarsely chopped
1/2 cinnamon stick
5 cups or more of canned low-sodium chicken or veggie stock
Chopped fresh parsley
Directions:
Preheat oven to 375 degrees F. Oil bakin sheet. Place squash cut side down on baking sheet and bake until very soft (about 50 minutes). Using a paring knife remove the peel and discard. Cut into 2" pieces.
Heat oil in a heavy pot, mix in onion, brown sugar , ginger, garlic and cinnamon. Cover pot and cook until the onion is tender (about 15 minutes). Add squash and 5 cups of stock and bring to a boil. Cover and simmer for 10 minutes then discard cinnamon.
Working in batches, puree soup in the blender. This step can be done up to 1 day ahead. If so, when ready to eat, reheat and season as necessary, garnish with parsley and serve! This goes great with Tuscan bruschetta on the side!!