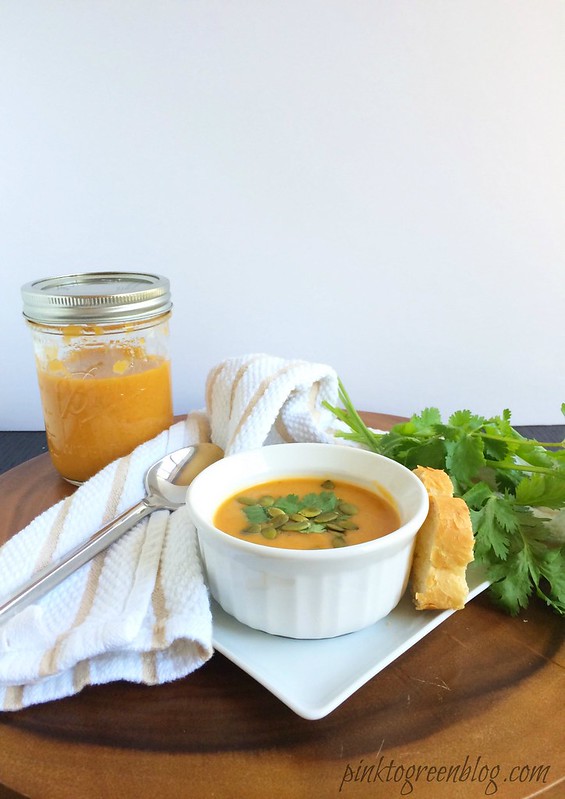 We brushed off our woolen hats and winter jackets on Saturday morning to walk down to the lake and see the waves caused by Joaquin. All bundled up along the shore of Lake Ontario, you wouldn't have guessed you were by a lake, or that it was early October. Fall's presence has very much taken grasp in Toronto and with it, I look forward to warm and comforting meals.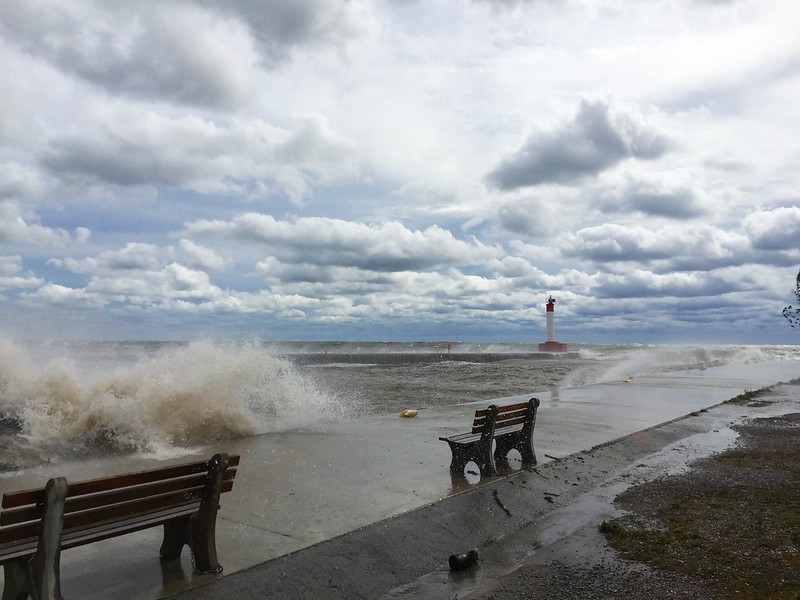 The stormy waters on Oct 3rd. Look at the waves in the lake!
Soup, like this Sweet Potato one from
Gwyneth's cookbook
, is my perfect antidote to a chilly day. I love it so much that I visited a few Canadian grocery stores in search of the star ingredient, chipotle in adobo. The heat and flavored provided by the few teaspoons of this sauce really make this soup something worth sharing.
This soup plus a crusty loaf of bread also lends it's self well to a Meatless Monday meal. The recipe below makes a big enough batch that I like to freeze portions to enjoy later. When freezing, I have found it best to freeze my soup in mason jars. Two freezing tips: make sure to leave at least 1" at the top of the jar so there is room for expansion and make sure to let the soup cool before putting it in the freezer.
Spicy Sweet Potato Soup with Chipotle + Coriander
2 tablespoons olive oil
1 large red onion, finely diced
2 garlic cloves, minced
5 sprigs of cilantro, leaves reserved for garnish. tie stems together with a piece of kitchen string
3/4 teaspoon of cumin
course sea salt
2 teaspoons chipotle in adobo (less or more to taste)
2 large sweet potatoes, peeled and diced
6 cups veggie stock
Directions:
Heat oil in a large pot over medium heat. Add the onion, garlic, cilantro sprigs, cumin and a pinch of salt and cook until the onions are softened but not brown (about 5-10 min). Add the chipotle and sweet potatoes and stir to combine. Add the veggie stock to the pot and turn of the heat. Once the soup comes to a boil, lower the heat and simmer until the sweet potatoes are very soft, about 30 min. Remove and discard the cilantro. Carefully puree the soup in a blender or use an immersion blender. Garnish with toasted pumpkin seeds and a few sprigs of cilantro.