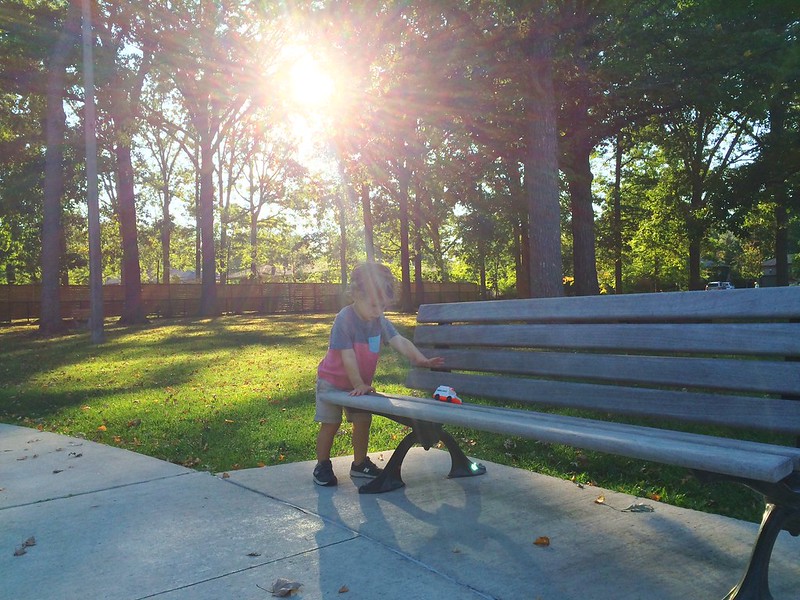 I caught myself dreading the park last week. Just how much swinging, climbing, and pretend-dinner-out-of-woodchips-games does my toddler think I can take. Not to mention the inevitable resistance to leaving. Maybe we had gone to the park one too many times this summer. Maybe I was burnt out. Maybe I selfishly wished I could fill the next hour with an activity that required less engagement from me.
But James Robert loves it.

So we went anyway.
The late-summer sun, still filled with warmth but reminding us that seasons change, peeked through the trees.

A stream of light illuminated his head into golden curls each time the swing came gliding back in my direction.

I must have pushed him in a swing more than 10,000 times this summer.

But this image of his golden curls flying about and his beaming smile in the park swing is the one that will stay with me.
He was literally gulping in the simple pleasures that this time of year brings.
The little moments of motherhood that sneak up on you are the sweetest.

In the face of my resistance, I was met with a reminder that doing small things with great kindness, often over and over (and over!) again, is the greatest gift we can give our children--and perhaps, ultimately, ourselves.
Relishing the season past yet hopeful for all that autumn holds, I find late summer has a perpetual feeling of sweetness.

Routine and structure will be welcomed into our lives, but I am already nostalgic for this summer and the countless simple moments we shared at the park.
"Mama, did you see that leaf falling through the sky?", James Robert brought me out of my peaceful reflection.
He is likely to ask me that question 10,000 more times in this season to come.

And I'm going to do my best to enjoy the sentiment each time. Because if falling leaves are anything like park swings, I'm sure to catch a golden glimpse of childhood if I look closely.