Frying bacon is a good excuse for an apron, which is reason enough to get in the kitchen, in my book. You see, I rarely eat bacon, much less do the frying myself. However, I have a bacon-obsessed husband whom I adore so sometimes bacon I fry. More often than not we have it with this recipe; a healthier version of a classic- chicken caesar salad.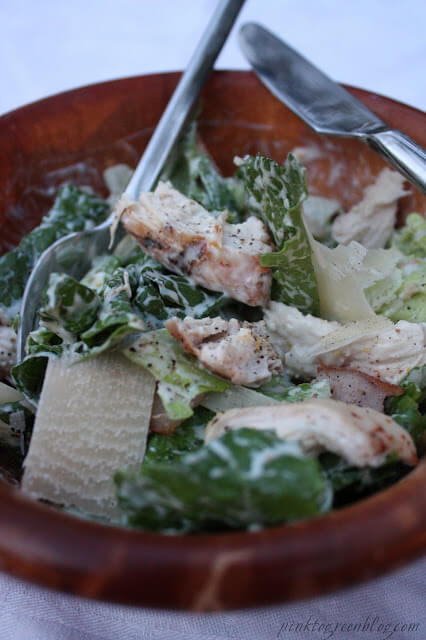 This version has more flavor in my humble opinion, in part, from the citrusy zing of the yogurt based dressing. I hope you'll accompany this recipe with an apron too, if you feel so inclined.
The tweeks are endless. We grilled our chicken this go around, but you could also toss it with the juice and zest of a lemon and cook on the stove and it is lovely also. You could swap out bacon and add a poached egg for added protein which is another great option. Homemade croutons could be great! Play around with it; you can't go wrong.
Skinny Chicken Caesar Salad
{serves 4 or 2 with plenty of leftovers}
Ingredients:
2 chicken breasts
4 pieces of turkey bacon {or a lean bacon of your preference}
1 head of romaine lettuce
1/2 cup shaved parmesan cheese
1/3 cup chopped flat leaf parsley
Yogurt Dressing:
1 cup of greek yogurt {I used 0% Fage}
1 clove garlic, minced
juice and zest of 1 small orange
S and P to taste
1) Mix dressing and set aside; I like to give it 30 minutes in the fridge to let the flavors come together
2) Prepare chicken and bacon to your liking
3) Clean and prep lettuce and parsley
3) Divide lettuce between serving bowls and top with chicken, bacon, cheese and dressing