Morning friends. Good weekend? We had the best time celebrating our friends wedding in Cincinnati. The 8 hour drive gave me the perfect excuse to experiment with creating packable snacks. I try to eat healthy while traveling, but it can be a big challenge. Filling a cooler with home-made snacks really cuts down on the need to grab fast food. And after trying these, I can say I'm officially obsessed.
The following recipe for raw energy balls has definitely earned itself a permanent place in repertoire. Consider this recipe a great jumping off point to experiment with flavors, I know I'll be doing the same. Cacao, gogi berries, walnuts etc could all sub and swap.
Here's their beauty shot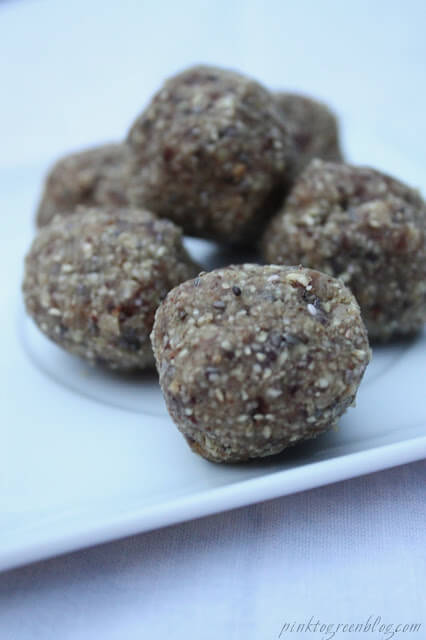 Raw Energy Balls
Ingredients:
1 cup organic rolled oats
1/2 cup pepitas (pumpkin seeds)
1/2 cup pecans
1/4 teaspoon cinnamon
1/4 cup shredded coconut
2 tablespoons chia seeds
pinch of salt
1 teaspoon vanilla extract
approx 7 medjool dates
Directions:
1) Blend all ingredients (except vanilla and dates) in a food processor until finely ground
2) Add vanilla and then dates, one at a time, until the mixture easily sticks together. Adjust the amount of dates needed according to each batch. This time around I used 7 and then added a smidgen of water to make it stick.
3) Roll into small balls and store in the freezer (I love them that way, but if you have them on the go, they are good too). The fats in the nuts keep the energy balls from completely freezing.