For the people on your list who pine for perfect produce, cook their way through volumes of Gourmet and consider the kitchen solace at the end of the day. These goodies are perfect for the foodies you hope will be inviting you to dinner.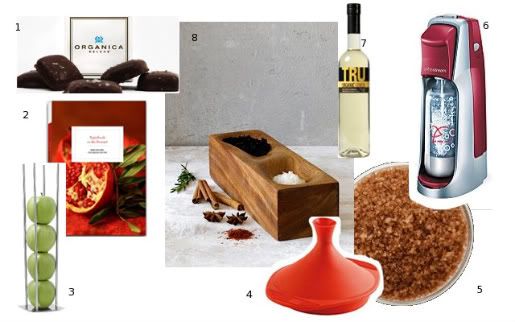 1) Hand dipped, fluer de sel topped, organic caramels that hail from Brooklyn may seem like complicated candy, but let me assure you the taste is simply incredible. Order them in cute, environmentally responsible packaging from
Organica Deluxe
. We put these in our out-of-town guest bags and received hordes of compliments, you will too!
2) For the perpetual recipe collector, a gift certificate to create their own
TasteBook
is the perfect way to commemorate their efforts.
3) A membership to a local CSA would score you major points. Check out
this website
for participating farms in the their area. For all the produce they will have coming their way, a beautiful and unique way to display it is the ultimate foodie art. This
fruit stack
is perfect.
4) Encourage experimentation in the kitchen with a new gadget; a
tangine
will be a perfect addition to their repertoire because a meal with a pretty presentation and easy clean-up is sure to charm.
5) With all natural flavors like aged balsamic, lime fresco and vanilla bean;
Fusion
gourmet salts are the ultimate gourmet accessory.
6) The secret to perfectly carbonated water and tonic in minutes (sans disposable bottles),
Soda Stream
is a favorite in our house. Every foodie will love the ease to impress while also appreciating a smaller carbon footprint.
7) Specialty liquor such as
TRU
organic lemon flavored vodka would surely entice a cocktail hour to immediately ensue. A tree is planted for every bottle you purchase!
8) A modern looking, reclaimed wood
spice block
is a perfect compliment to their burgeoning salt collection.