I'm so behind on posting, but I wanted to share some of my favorite things from our Thanksgiving Celebration!
We had such a wonderful time hosting our families this year; it was an incredible feast and I had a blast in the kitchen whipping up some old and new favorites.
Appetizers are a taken seriously in our family; crudite and BLT dip in a hollowed cabbage and an antipasto spread of cheeses, chutney and olives started things off right.
Our table setting was simple; holly branches in silver mint julep cups and candle light.
But perhaps the runaway favorite of the evening was the pear, walnut, brandy cranberry sauce; just enough sweetness to balance the tart, I would recommend
this
recipe for any holiday meal.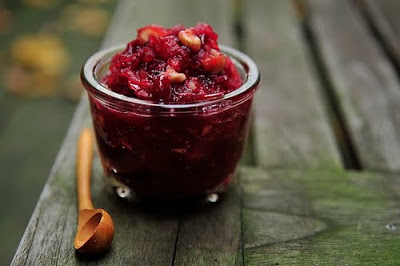 {Cranberry sauce image via
Food52
}