I get excited about paper like some girls get excited for shoes. This being said, I was more than enthusiastic about the stationary selections for our re-wedding. Remember
this
post? Well, I'm happy to unveil our invitation choice, The
Walden
by Bella Figura. In addition to their outstanding environmental initiatives, Bella Figura has beautiful products and great customer service.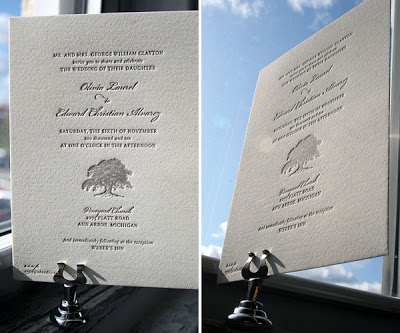 The oak tree icon which embellishes the suit is a perfect match for our venue and its environmental values. (Does the tree icon look familiar? Hint, check out the new
header
!)
Paper products are an exciting element of planning a wedding, but they can also be one of the most non-environmentally-friendly aspects. Being mindful of our eco-cred, we strove to make green choices without sacrificing style.
Eco Elements:
·
Skip Paper Save-the-Dates:
This is an easy way to cut down on the paper used at your wedding. We created a custom email template with a personal photo and save-the-date information and then emailed our guests. There are numerous ways to make creative, personal and stylish email save-the-dates these days and we felt this was one easy area to forgo paper. For some great examples, look
here
.
·
Reply post card:
A reply post card is a cute and easy way to save paper by eliminating the extra envelope; as an added bonus this makes the invitation weigh less which also means less postage is needed
·
Wedding Website:
In addition to serving as a useful tool for your guests and wedding party, the website is a great way to save on paper. Instead of including accommodation, transportation and activity information in our invitation, we invited our guests to visit our
website
in order to get that info.
·
Create Double Duty Items:
If we are using paper, I tried to make it work double duty. For example, our favors also double as our escort cards. Get creative!
·
Print on Recycled Paper:
Programs, menus and table numbers all add up so we made sure to use environmentally friendly paper to print these items. It is so easy to do now, especially since
Paper Source
has a huge selection of great products that have
eco-cred
. Additionally, for rehearsal dinner, shower and thank-you cards,
Wedding Paper Diva's
can't be beat. They have a huge selection and they print on recycled paper. (This is also a great option for baby showers and bachelorette party invites)