Organica Deluxe
is a fusion of elegant taste and eco-mindedness; the online boutique is a treasure trove of beautiful gifts and tempting splurges. (Remember how excited I was to
discover
them?)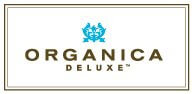 Recently, I had the opportunity to sit down with the stylish women behind
Organica Deluxe's
success, Wendy James and Jane Hunter. Purveyors of all things eco-stylish, their collaboration is a testiment to the fact that it is possible to be both chic and green. With 6 children between them, these busy Charlotte moms also enjoy making time to share the best and most beautiful eco-gifts around.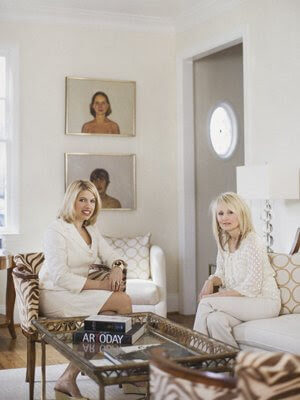 Both Wendy and Jane are enthusiastic about being green and hope that
Organica Deluxe
is a fun way for others to do the same. They want customers to feel good about the gifts they buy on the site; their eco-conscious mantra is applied to both the products and the packaging. Wendy and Jane have found a way to wrap up eco-luxury in a very pretty (and green) bow.
Here is a peak behind the scenes:
Where did you get the inspiration to start
Organica Deluxe
?

We created Organica Deluxe because we wanted a beautiful place to buy eco-friendly and organic for ourselves and our friends. We recognized that organic companies often miss the gorgeous and even miss the green when creating packaging. We love chocolates and wines and wanted others to know organic choices are amazing. We were tired of smelling flowers that were super-charged with pesticides, we wanted our babies to be clothed in pure organic cottons and we like companies who care about customers and put that caring into each gift package.
If you were to receive a gift from
Organica Deluxe
, what product would you most like to receive and why?
Our roses! The box is amazing, the roses are beautiful, the blooms last longer than most roses and the farm that grows these pesticide-free flowers takes such good care of their land and people.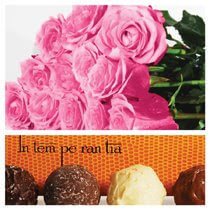 Tell us about how you like to incorporate going green into your everyday life?
Make an effort to recycle as much as possible, change to more environmentally friendly light bulbs, stock the refrigerator with organic and natural foods; even working with a homeopath to reduce toxins and medicines in our lives.
Do you have any advice for someone who would like to start going down that road?

Small steps are great steps.
Favorite Charlotte picks?
Enjoy walking in our city – to parks, to school, to meetings.
Excited about the some new restaurants –
Good Food
on Monford and
Basil
Love the old
Manor Theater
*********************************************************
Wendy and Jane have graciously extended a discount to Pink to Green readers; now until August 31st,
enjoy

15% off

your order at
Organica Deluxe
!!
Enter pinktogreen upon checkout and enjoy your summer shopping.