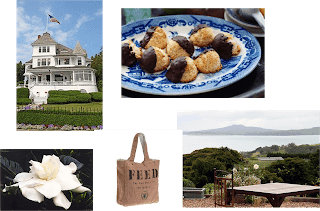 Michelle of
Oh, Mishka
has tagged me!
1. Respond and rework. Answer the questions on your blog, replace one question you dislike with a question of your own invention; add a question of your own.
2. Tag eight other un-tagged people.
What is your current obsession?
Getting every last bit of New Zealand summer sunshine!
Do you use canvas or plastic bags when you go shopping?
Canvas
Do you nap a lot?
Not a lot, but sometimes a lazy Sunday afternoon nap is pure bliss :)
Who was the last person you hugged?
My sister, she just flew from Chicago to New Zealand for a visit!
What's for dinner?
Cous cous salad with grilled portobello mushrooms
What was the last thing you bought?
Lunch
What is your favorite weather?
That's a tough one... a crisp fall day or a summer evening
What's on your bedside table?
A Lady, First, a candle and my alarm clock
Say something to the person/s who tagged you.
Michelle, I'm so excited for your travels to Italy!
If you could have a house totally paid for, fully furnished anywhere in the world, where would you want it to be?
A gorgeous summer home on Mackinac Island
Favorite vacation spot?
Italy, particularly Cinque Terra
Name the things you can't live without.
Friends and Family! (OK and chocolate)
What would you like to have in your hands right now?
A coconut macaroon
What is your favorite tea flavor?
Sweet Tea
What is your favorite book?
The World According to Garp
If you could go anywhere in the world for the next hour, where would you go?
Mudbrick Vineyard
What did you want to become as a child?
I wanted to be part of the Von Trapp family from the Sound of Music!
What do you like better, e-mail or telephone calls?
Phone calls especially from overseas
What is your favorite sport to play?
Tennis
What was your favorite concert you attended?
Coldplay
What is your favorite flower?
Lilacs, gardenias and white roses