Kate Hanson was recently named one of Australia's Eco-Heroes by
Little Green Stilettos
blog and this accolade couldn't be more fitting. It was her move from the UK to Australia a couple of years ago that opened her eyes to going green. Surrounded by the beauty of tropical north Queensland, Kate started reexamining her lifestyle choices to be more sustainable and healthy and in the process she learned a lot.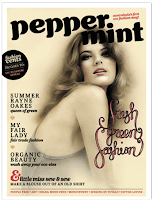 In addition to being the beauty editor for
Peppermint Magazine
, she has recently started a website,
Ikigai
, dedicated to sharing the most beautiful and healthy beauty products out there. Moreover, her website has lots of tools to educate yourself on natural beauty products including a comprehensive
glossary
of ingredients.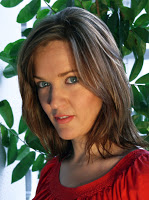 I recently got to catch up with Kate am thrilled to share a bit more with you about this gorgeously green gal:
What does Ikigai mean? Is there a story behind the name?
There sure is! Ikigai is Japanese meaning the things in life that bring meaning and joy – the things that fulfill us. That resonated for me, the idea of pampering yourself, but at the same time making ethical choices that don't damage the beautiful world around us. I get tremendous joy and meaning from being in nature, especially now that I have the beautiful Queensland beaches and hinterland on my doorstep. I want to look beautiful and have luxurious things but still live in harmony with the planet that sustains us – and I don't see any reason why we can't do both.
What are some of the small things that you do in your day to day life that are green?
My fiancé is a serious coffee fanatic – he has four cups a day – so we invested in a coffee machine which means no more disposable cups. When I thought about my daily coffee purchase, I realized that if everyone in Australia gets a takeaway coffee in the morning and throws the cup away imagine the amount of waste!
I am also very lucky that we live close to the city so I can walk to work. We very rarely use the car and walk as much as possible. And even though we live in a tiny unit, we have herbs and tomatoes growing on our balcony which is very exciting… I don't have green fingers at all and I normally manage to kill plants, so it's quite a miracle that they are still alive.
It can be overwhelming to look at your beauty products and think that you may have to replace them all- what is your advice to gals who are just starting to green their beauty routine?
Yes I totally understand that feeling of being overwhelmed - that is why Ikigai was born. I was sooooo exasperated with purchases I made thinking they were a greener choice, only to research the ingredients and find that they had lots of chemicals in it and only a dollop of good stuff. I got very downhearted and discouraged – not to mention bewildered! It's because of that experience that I wanted to bring a bit of glamour into natural and organic products so that girls like me don't have to compromise on their yummy products – plus I wanted to provide a place where there were ONLY products you can trust, so you can find everything you need without the hassle.
So, cutting to the chase…. My advice would be to have a look at the shopping guide I've put together which explains some of the worst chemicals that can be found in cosmetics. You can find it
here
. Take it into your bathroom and read the ingredient lists on your products. Then sort them into 'good', 'medium' and 'bad' piles depending on how many nasties they have in them. Chuck the bad ones out, use up the medium ones and replace them with a better choice when you've finished, and hang onto the good ones. I'd say to be in the 'good' category they shouldn't have any of the ingredients on the hit list.
Perfume, parfum or fragrance is a tricky one – generally it's a pretty safe bet that this refers to synthetic perfume but sometimes (like with Lush products) it's referring to essential oils that are added for their aroma. If in doubt, exercise caution! Generally speaking, the easiest areas in which green your beauty routine are shower gel, bath and body oils, body moisturizers and facial care products. Hair care, toothpaste and deodorant are a little harder but it's definitely worth persevering until you find the right ones for you!

What are your favorite products featured on Ikigai? (are you able to ship to NZ?)
We are absolutely able to ship to NZ and you'll only get charged the same as if you were ordering from Australia.
1. My absolute favourite product of all time is the
GLOW Intensive C Rejuvenating Serum
from Pure&True Organic Beauty. This stuff seriously rocks, proving the point that organic products can be every bit as effective as the top brands. It's base is healing aloe vera, not water like most skincare products. It's absolutely packed with antioxidants, including heaps of vitamin C and E – so much so that your skin tingles when you apply it. The antioxidants help stimulate collagen synthesis which is just a fancy way of saying they can help you look less old and haggard (I need all the help I can get!). And I am extremely surprised and pleased that a brown pigment patch on my face has all but vanished since I've been using the serum. A percentage of the profit from sales goes to social and environmental charities. Love it, love it, love it.
2. Endota Spa Organics
Lilly Pilly Body Moisturizer
. This stuff is just too yummy. It's made with organic vanilla beans that leave you smelling good enough to eat. Lilly Pilly is a native Australian tree and the extract from the edible berries is full of vitamin C, antioxidants and exfoliating fruit acids. So not only does this stuff smell great, but it leaves your skin mega smooth too. Packaging is 100% recycled and a percentage of profits goes to Bush Heritage Australia, which is dedicated to protecting 7 million hectares of ecologically significant bush land.
3. Pangea Organics Egyptian Geranium with
Adzuki Bean & Cranberry Facial Scrub
. This is a seriously refreshing scrub with organic cranberry extract which has a natural astringent effect and is loaded with antioxidants. Ground adzuki beans were used traditionally by the Japanese geishas to exfoliate and cleanse without drying, for a beautifully clear complexion. The coolest thing though is that you can plant the box to grow a herb!
What is your favorite travel destination in Australia?
I would have to say the Queensland hinterland. Springbrook Falls, where you can walk behind an amazing waterfall, absolutely blew me away. Stunning!
Thanks to Kate for sharing her passion with us, I hope you'll all check out
Ikiagi
and
Peppermint
Magazine!