It sits unassumingly in the corner of our little kitchen- I lovingly refer to it as my board of memories. One of the treasures that made the long trip across the world to adorn our tiny apartment. I'm not sure my husband shares the same affinity for the board as I do, but it proudly bears our mementos and memories which are now a mix of things from home and things from our new life abroad. If you look closely, you can see ticket stubs, post cards from family and friends and wedding invitations.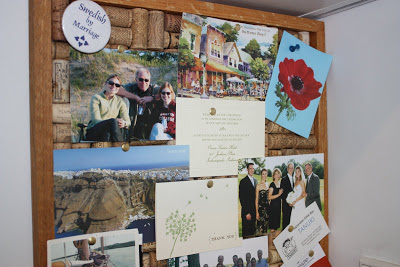 Beyond the sentimental value of the papers that adorn the board, it's really the memory of the corks underneath that hold most value. It's a roadmap of culinary adventures and goodtimes back home. Made of recycled wine corks, I assembled this board a couple of years ago and have been unable to dispense of it ever since. Upon further reflection, I realized that the items most cherished and prominent in our apartment are those that have an element of recycling to them-- our board of memories and our display of vintage records are two such elements.
What are the most cherished items displayed in your home? Do they have an element of green?