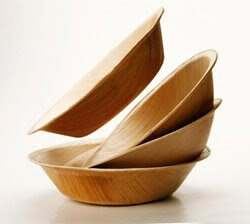 Verterra
is a line of biodegradable, disposable dishes that will decompose within three months of becoming waste.
They are made of completely sustainable materials, fallen leaves and water- that's it. Although they are more expensive than other disposable dishes, they are sturdy enough to be hand washed and reused plus they are oven, refrigerator and microwave friendly.
Featuring a wood-grain look, these pieces are pretty enough to be used at even the chicest dinner party. According to
TIME
, Columbia University, the Clinton Museum and VH1 have ordered the plates for events, and Verterra has provided dishes for hundreds of bar mitzvahs, weddings and parties. What a great way to add a bit of "green" to your next event.