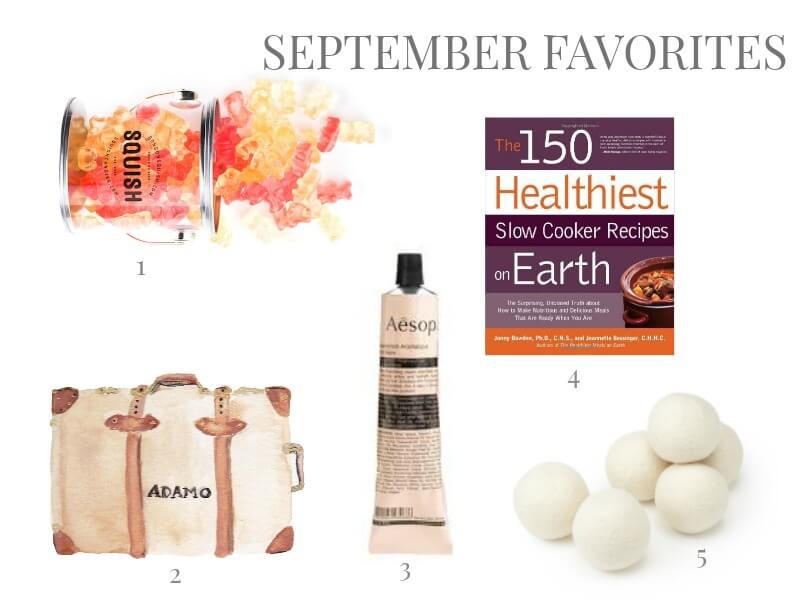 How is September coming to a close? This month was such a transition of both season and routine for our family. It was also full of wonderful travel memories. Here were some of my favorite products and tidbits from the last four weeks:
1)
Squish Candies
. I was introduced to these artisanal candies while in Montreal. With flavors like rose, strawberry rhubarb and my personal favorite champagne gummy bears, they are memorable candies. (They are also nut free!)
2) Courtney Adamo and her adorable tribe of 4 children have packed up their London home and are traveling the world for a year. I fell in love with Courtney through her Instagram, but am now hooked on h
er newest blog
that documents their travels.
3) I am already preparing my skin for winter. And
this hand cream
is a splurge that makes every application feel like a luxury.
4) When the weather gets cooler, I love to use my crock pot, but was feeling stuck on inspiration. I checked
this cookbook
out on a whim and loved it so much. The Cherry Beef was a huge hit!
5) I finally bit the bullet and bought
wool dyer balls
and can't believe I waited so long. They cut drying time in half and they are much more eco-friendly than dryer sheets. I'm hooked on adding a drop of lavender essential oil to them before use and the laundry smells incredible.