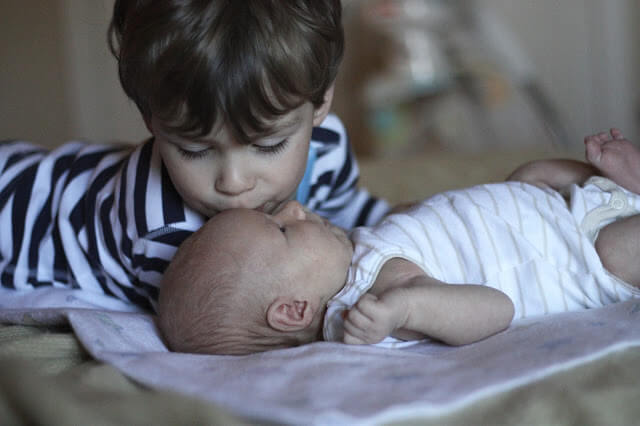 And just like that, Thomas is one month old! What a wonderful, chaotic and endlessly tender month it has been. I didn't anticipate how overpowering becoming a Mother again would be. Unwittingly, I took the last month to be as present as possible in life. I didn't want to miss a thing.
Thomas sleeps on my chest most comfortably and I've surrendered to the inability to multitask while enjoying his company. Because I just love every baby noise and the feel of his breathing. My hands feel continually full these days; if I'm not holding Thomas, I'm trying to dote on James Robert or sneak in a shower. But my heart feels even fuller.
Perhaps it is my ability to be more relaxed as a Mother the second time around or that Thomas' birth was calm not traumatic, but I've experienced more elation in this month that I can remember in my life.
Holding Thomas for the first time, watching James Robert become a big brother, falling in love with my husband all over again while watching him hold our sleeping baby, the tremendous appreciation for our family and friends who have taken care of us are the memories I'll hold dear forever.
It's not to say these days haven't been challenging, they are! Despite my desire to document life, it has often been too chaotic to do so. Mat was out of town for a week, James Robert has thrown us a few curve balls as he adjusts and we decided to drive to Michigan for the 4th of July weekend… 11 hours in the car with a 3 year old and 3 week old was a bold move! But the blessing of welcoming a baby who was so prayed for has been worth every challenge and then some.
These are a few of the pictures I did manage to capture this past month. And because I'm learning to celebrate the little victories (doing the laundry, making dinner, getting out of the house alone with 2 kids) I'm going to consider this blog post a banner achievement to send us into the weekend. Wishing you all a great one!