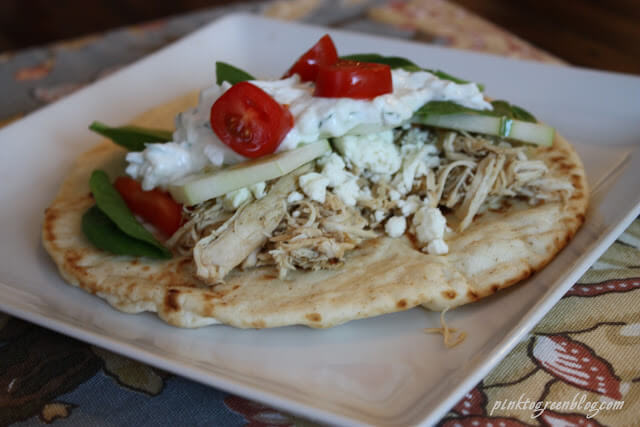 Nothing promotes efficiency like motherhood. I'm quickly learning to power through as many to-do's as possible during nap time. Making dinner has to be streamlined too, so I'm working to build a repertoire of healthy, quick meals.
Since you can dump everything in the crock pot and let it do it's thing, it is the perfect way to make meals with a baby.
Here is my take on Greek style chicken pitas:
Recipe (adapted from Six Sisters):
Ingredients:
2 chicken breasts
2 cloves of garlic minced
juice of 3 lemons (approx. 1/4 cup)
small onion diced
1/4 water
1 tablespoon of olive oil
2 tablespoons of red wine vinegar
1 teaspoon oregano
Directions:
Spray crock pot with no-stick cooking spray and place chicken breasts. Pour remaining ingredients over chicken breasts and cook everything on high for about 3-4 hours or low for 6-8 hours. At the end, use two forks to shred the chicken.
Serving suggestions:
I served mine buffet style with the following options: pita pockets, sliced cucumber, tomato, olives, red pepper, spinach and homemade tzatziki (recipe follows)
Tzatziki:
0% Fage Greek yogurt
juice of 1 lemon
finely diced cucumber that has been seeded and the juice squeezed out
1 finely diced garlic clove
salt to taste