Guilty as charged. I'll use any excuse to celebrate. Major's birthday was enough of a reason that we should enjoy a cake too. What came to the table was true comfort food in the form of banana cake.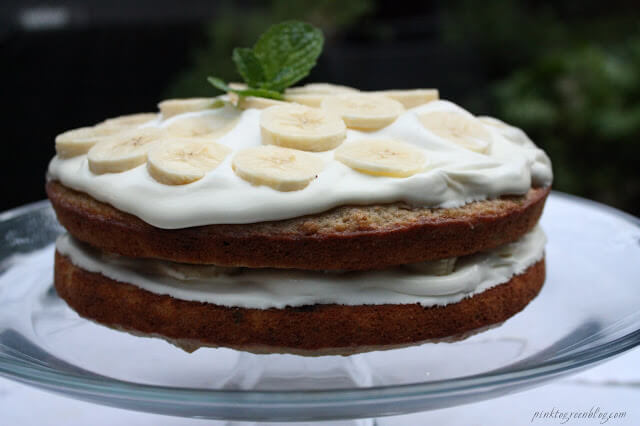 Banana Cake Recipe:
Ingredients:
•
1 cup whole-wheat pastry flour
•
1 cup all-purpose flour
•
1 1/2 cups mashed very ripe bananas, (about 3)
•
1/2 cup liquid egg substitute (like Egg Beaters)
•
1/2 cup fat free buttermilk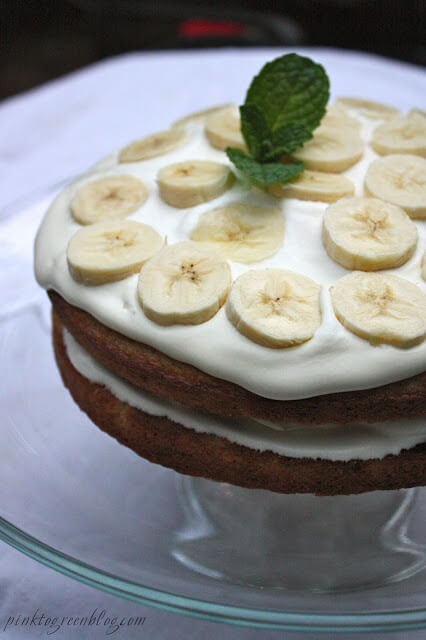 Instructions
1.
To prepare cake: Preheat oven to 375°F. Coat two 9-inch round cake pans with cooking spray and line the bottoms with wax paper or parchment paper.
2.
Whisk eggs, 1 cup sugar and oil in a large bowl. Stir in mashed bananas, buttermilk and 1 teaspoon vanilla. Stir whole-wheat flour, all-purpose flour, baking powder, baking soda and salt in a medium bowl.
3.
Add to the banana mixture and fold in just until blended. Divide the batter between the pans.
4.
Bake the cake until the tops spring back when touched lightly, 20 to 25 minutes. Let cool for 5 minutes, then turn out onto a wire rack and let cool completely.
5.
To make the cream, gently fold the Cool Whip into the vanilla pudding, in a medium sized bowl, using a rubber spatula.
To assemble cake: Shortly before serving, place 1 cake layer on a serving plate and spread half the cool whip cream over it. Peel and slice the remaining bananas; arrange half the slices evenly over the cream. Top with the second cake layer. Spread the remaining cream over the cake and arrange the remaining banana slices decoratively over the top.
PS. Major definitely enjoyed his doggie birthday cake too