These little guys are the star of the show in this recipe; I'm embarrassed it has take me so long to appreciate their simple beauty and incredible salsa flavor. Start with the following recipe and enjoy on it's own with chips or continue on and add it to the casserole.
Recipe for Tomatillo Salsa
:
Let about 15-20 of these hang out under the broiler for about 10 minutes until they are browned Add to the food processor with the rest of the ingredients:
- half a jalapeno
-1/2 a small onion peeled
-3 garlic cloves
-handful of cilantro
-3 Tablespoons of olive oil
-pinch of salt
If you're still with me, follow these instructions to assemble the enchilada casserole.
Roasted Veggie Enchilada Casserole Recipe:
Ingredients
-5 cups of mixed veggies of your choice
-Olive Oil
-15 oz can black beans
-Corn tortillas
-Tomatillo salsa, recipe above
Directions
Start with some of your favorite veggies, clear your fridge if you need to, and toss them with some olive oil, S&P. Roast them in the oven at 375 degrees for 25 minutes or so on a parchment lined baking sheets. Toss in a bowl with one drained 15oz can of black beans. I added mushrooms, butternut squash, zucchini, red pepper, onion and asparagus.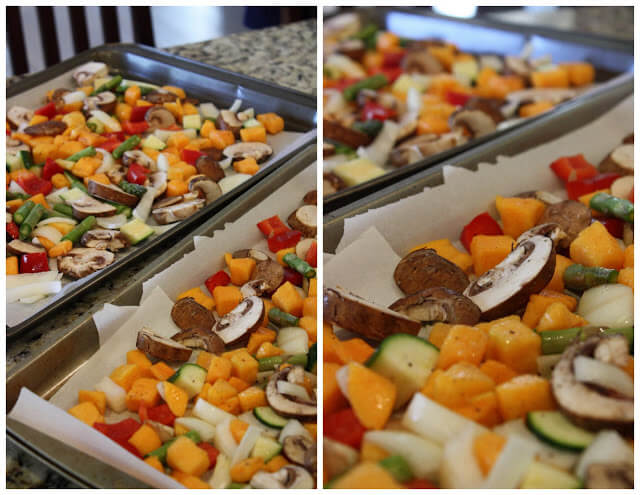 Next, assemble the enchilada casserole.
Step-by-step, this is how you put it together:
1) Tomatillo Salsa
2) Corn tortillas
3) Roasted Vegetables/beans mixture
4) Cheese
5) Corn tortillas
6) Tomatillo Salsa
7) Cheese
Bake at 350 for about 15-20 minutes or until the cheese is melted and bubbly.**
**Note- this recipe freezes beautifully. I made about 3 dishes and have them on hand for a quick mid-week meal for the future. Just adjust the time needed to bake accordingly.