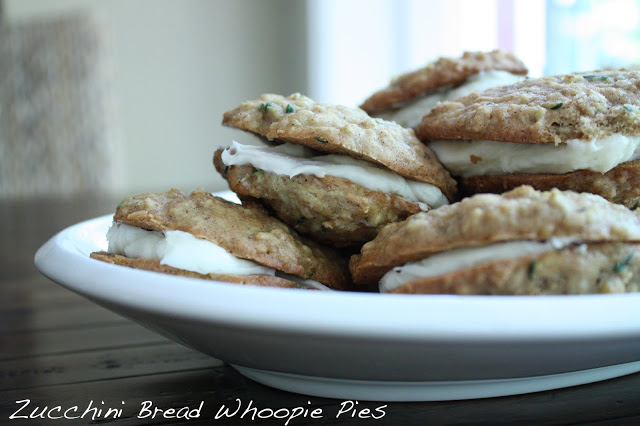 If you like zucchini bread,
this
recipe
takes it to a whole new level. I think I've opened the floodgates on whoopie pie mania and have been
pinning other recipes f
or future experimentation. Looks like I'm on the way to crossing #6 off
my 30 before 30 list
!
Recipe from Martha Stewart:
1 cup all-purpose flour

1 1/4 teaspoons ground cinnamon

1/2 teaspoon baking soda

1/2 teaspoon baking powder

Coarse salt

1 1/2 sticks unsalted butter, room temperature

1/2 cup granulated sugar

1/2 cup packed light-brown sugar

1 large egg

1/2 teaspoon pure vanilla extract

1 cup finely grated zucchini

1 cup old-fashioned rolled oats

1/2 cup chopped toasted walnuts

8 ounces cream cheese, room temperature

1 cup confectioners' sugar, sifted
Directions
Preheat oven to 350 degrees. Sift flour, cinnamon, baking soda, baking powder, and 1/4 teaspoon salt into a bowl. Beat 1 stick butter and the sugars until pale and fluffy. Beat in egg and vanilla.

Beat flour mixture into butter mixture. Mix in zucchini, oats, and walnuts. Refrigerate until firm, about 1 hour.

Using a 1 1/2-inch ice cream scoop (about 2 tablespoons), drop dough onto parchment-lined baking sheets, spacing about 2 inches apart. Bake until edges are golden, about 17 minutes. Let cool on a wire rack.

Beat together remaining 1/2 stick butter, the cream cheese, and confectioners' sugar until smooth. Spread 1 heaping tablespoon filling onto the flat side of 1 cookie, and sandwich with another cookie. Repeat with
remaining filling and cookies.