Cranberry bars in tow, we attended our neighborhood holiday party this weekend. I know it's not really a meatless monday post, but they were pretty enough to share all the same. Spiked with lemon zest, these bars are a tart treat amongst a dessert tray of sweet cookies.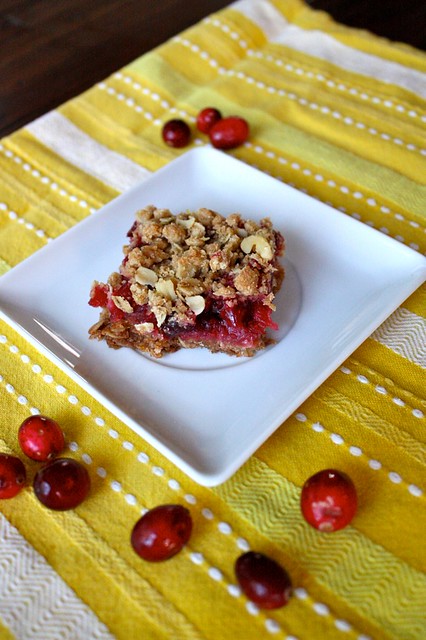 Recipe:
1 ½ cups all-purpose flour
1 ½ cups quick-cooking oats
¾ cup packed brown sugar
1 teaspoon finely shredded lemon peel
¼ teaspoon baking soda
¾ cup margarine or butter, melted
1 – 16oz can whole cranberry sauce **
¼ cup finely chopped pecans or walnuts
In large mixing bowl stir together the flour, oats, brown sugar, lemon peel and baking soda. Stir in the melted margarine and mix thoroughly. Set aside 1 cup of the flour-oat mixture for the topping. Press the remaining oat mixture into an ungreased 12in. x 71/2 in. x 2 in. baking pan. Bake in a 350-degree oven for 20 minutes. Remove from oven and carefully spread
cranberry sauce atop baked crust. Stir nuts into reserved oat mixture. Sprinkle oat and nut mixture atop cranberry sauce. Lightly pat oat/nut mixture into sauce. Bake for 25-30 minutes more or until top is golden. Cool in pan on a wire rack. Cut into bars – makes 24.
Can freeze bars. To serve thaw 10 –15 minutes at room temp.
** I make cranberry sauce. Follow instructions on the back of cranberry bag.