This is a great recipe for leftover rice, particularly the wild variety. And because this week is a refrigerator-clearing, time-crunch kind of week, Rice Salad with Tahini Dressing fits the bill nicely.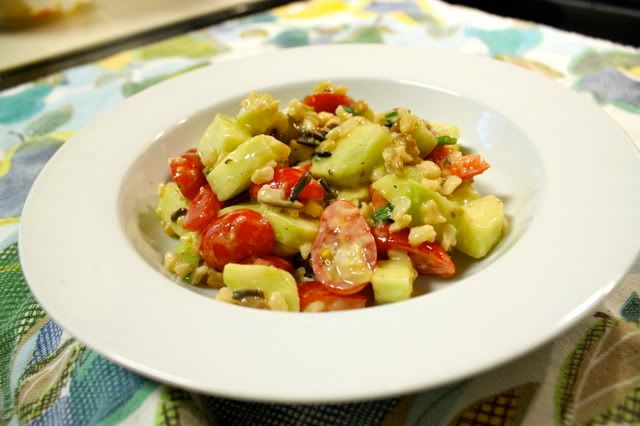 Adapted again from a favorite
cookbook
, the recipe that follows is a loose interpretation of
Sophie's
published version.
1/4 Cup Olive Oil
Juice of One Lemon
2 Tablespoons of Soy Sauce
2 Tablespoons of Tahini (sesame paste)
1/2 clove garlic, peeled & chopped (or crushed garlic from the jar)
Agave Nectar (to taste and optional)
2 Cups leftover wild ride
1/2 Peeled Cucumber, chopped
2 Scallions, finely chopped
1 Plum Tomato, finely chopped
1 Red Bell Pepper, de-seeded & chopped
Fresh mint leaves to garnish (optional)