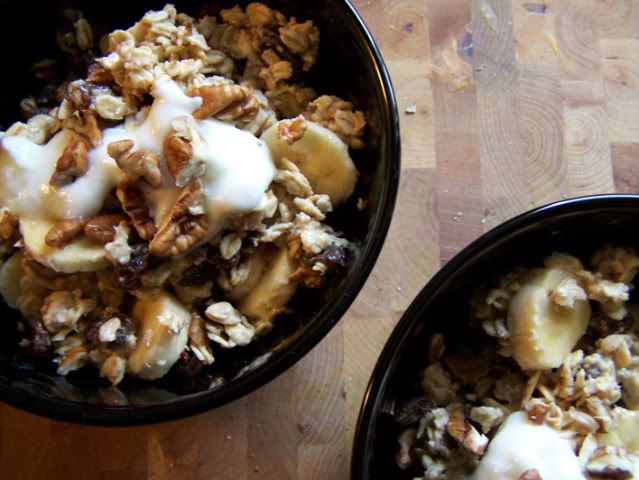 A warm weather version of oatmeal, Swiss Muesli, is quickly becoming a staple recipe in our house. I whip up a large batch on Sunday night and by Monday morning I've got a weeks worth of fulfilling, healthy and portable breakfasts. I'm hooked! First introduced to the recipe from
this
cookbook (which I love!), I look forward making seasonal variations.
Swiss Muesli
from Miss Dahl's Voluptuous Delights
4 apples peeled and cored
2 tablespoons of lemon juice
2 cups of rolled oats
2 cups of plain yogurt
1/2 cup raisins
1/2 cup raspberries
1/4 cup chopped walnuts
honey, agave nectar or maple syrup to sweeten
Directions:
Grate the apples coarsely and put into a medium-sized mixing blow. Pour the lemon juice on top to prevent browning.
Mix all the other ingredients in. Leave it covered overnight in the fridge so the fruit is plump and oats have absorbed the yogurt. Drizzle with agave and serve.
{image from
Delicious Wisdom
}