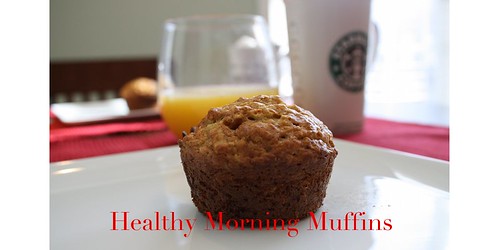 Around this time of year, my morning oatmeal routine is getting a bit, well, routine. This weekend, we enjoyed healthy morning muffins and they were the perfect change of pace. Moist without traditional fat, these muffins have add-ins like carrots, bananas and raisins that make them the perfect way to flavorfully kick-off the calorie conscious season without sacrificing flavor.
Healthy Morning Muffins
1 1/4 Cups all purpose flour
1/2 cup packed dark-brown sugar
1/2 teaspoon baking powder
1/2 teaspoon ground nutmeg
1 cup old-fashioned rolled oats
3 tablespoons extra-virgin olive oil
4 medium carrots shredded (I used 16 baby carrots)
1 medium ripe banana, mashed
1) Preheat oven to 400 degrees. Coat 12-cup muffin pan with cooking spray. In a large bowl, whisk together flour, brown sugar, baking soda, baking powder, nutmeg and salt until there are no lumps. Stir in oats and raisins. Add oil, egg, milk, carrots and banana and stir until blended.
2) Fill each muffin cup with 1/4 cup batter. Bake 23-25 minutes.