On all accounts,
Lara Miller's
designs are a hit in my book. Case in point, her new Holiday 2010 collection makes want to fill my calendar with deck-the-halls festivities.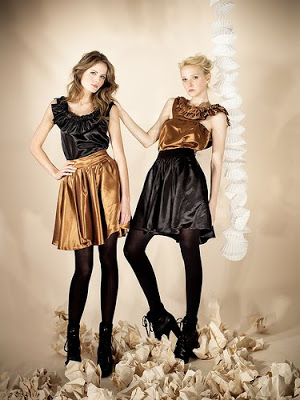 A girl after my own heart, Lara is Chicago based and eco-minded. Her clothing line is a inspired by the Windy City's aesthetic while also being made of sustainable materials. Lara designs with functionality in mind so many pieces are reversible and have multiple looks. Perfect for the girl who wants to get the most out of her wardrobe!
Also, random.org picked comment #15; the winner of the Linnea's Lights Giveaway is Laura Beranek!!! Congrats! I'll email you soon with details. Thanks for all the great feedback. Tomorrow I'll announce the Foundling Giveaway... stay tuned.