On the Menu:
This week's
meatless Monday
recipe is from a beautiful cookbook called
Frank Stitt's Southern Table.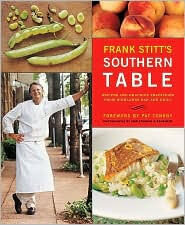 I'm adapting one of my favorite recipes, Ham and Pumpkin Pirlau, to be meatless. I love this dish for its seasonal ingredients and incredible aroma. (Last time I made it, my husband commented that they should make candles of the same scent.)
Pirlau is a low country term for rice stew and it is cooked using a similar technique to risotto. The result is wonderfully hearty dish full of the best flavors autumn has to offer.
Autumn Pirlau:
2 tablespoons unsalted butter
1 cup peeled, seeded and diced pie pumpkin or 1 cup peeled seeded and diced butternut squash
2 carrots, peeled and diced
1 large onion, chopped
1 leek, trimmed, cleaned and sliced ½" thick
1 sweet potato, peeled and cut into ½'' dice
1 bay leaf
1 cup basmati rice, rinsed
3 cups chicken broth
2 medium ripe pears or apples, peeled, cored and diced
2 thyme sprigs
Parmesan Cheese to garnish
(I've also added a pinch of nutmeg, cinnamon and a dash of dried cranberries with great results)
Directions:
In a large sauté pan or dutch oven, melt 1 tablespoon of the butter over medium high heat. Add pumpkin, carrots, onion, leek, sweet potato and bay leaf and sauté for 2 min. or until the onion and leek just begin to soften. Cover and cook over low heat for 15 min, until tender.
Add the rice and stir for 1 min to coat. Add 2 cups of broth and bring to a simmer. Cover and cook for 16 minutes or until the rice is tender and the broth has been absorbed. Meanwhile, warm the remaining cup of broth.
Transfer the rice to a bowl (discard bay leaf) and stir remaining 1 T of butter, pears and broth. Sprinkle with extra thyme and cheese.
If you missed last week's recipe, check it out
HERE
.