The ultimate pre-sleep routine is a simple blend of sweet almond oil and lavender essential oil rubbed into post-shower skin. This concoction indulges the senses into relaxation and helps promote a peaceful sleep. Moreover, the benefits for your skin far exceed any lotion product I've used before; my skin feels so soft in the morning that I'm hooked!

Aura Cacia
is a great line of products; it is available at Whole Foods or any other major health food type store and you can buy pretty little cobalt bottles for mixing:
About 3 or 4 tablespoons of sweet almond oil with 7 or 8 drops of essential oil makes a luxurious nighttime treat.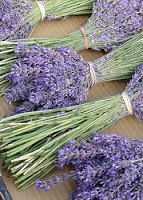 The calming effect of lavender makes it my favorite for this purpose, but you can experiment with mixing and matching scents to suit your preferences and mood. If you check out the Cacia website they have a selection of "
recipes
".