I'm a lucky gal, as we
say goodbye
to our dear friends and our adopted country, there are dinners and parties on the horizon. Thanks to Victoria at the
Toxic Free Boutique
, my nails will be up for the occasion with a shimmering pink lacquer of water-based polish.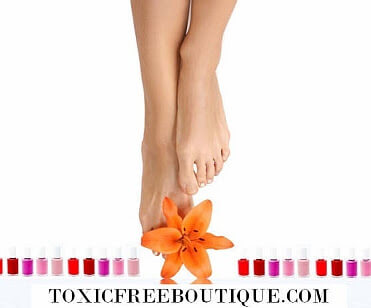 I'm literally dipping my toes into new territory; previously skeptical about the performance of nail polish in the eco-friendly realm I am a convert. The color was remarkably similar to a shade that I have used before and the nail polish remover actually delivered its stated intention. Perhaps my favorite attribute (and my husband's) was that both the polish and remover are scent free- really! Therefore, I could remove polish, paint my nails and let them air dry all without a dizzying whiff of chemicals that was a trademark of my old ways.

Traditional polishes usually contain the following three harsh chemicals:
Toluene
Formaldehyde
Phthalate

If you are looking for a polish that is safer for you and the environment but don't want to sacrifice the style there are many lines out now that go sans scary solvents. The
Toxic Free Boutique
is a great place to get some pretty polish and my other favorite is the
Nicole
line by OPI.