I love lemons! They are bright, cheery and versatile-- in fact, in many cases, they are are a great alternative to chemical laden cleaners. Below is a list of my 15 favorite ways to celebrate the jewel of the citrus family.
When life gives you lemons, go green...
1) Clean your cutting boards by using salt and half a lemon as a scrub
2) Deodorize and sharpen your garbage disposal by adding a cut up lemon and a cup of ice
3)
Buffer
a sharp blade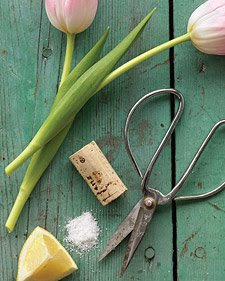 4) Make your own all-purpose cleaning solution by combining lemon juice, vinegar and water in a spray bottle
5) Add lemon juice to your laundry to whiten your whites and get things smelling fresh and clean
6) Clean copper, tarnished brass and stainless steal by applying a paste of lemons and salt, then rinse for a spot free finish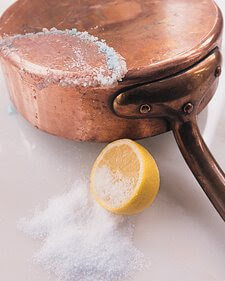 7) Create a natural furniture polish by combining 1 part lemon juice with 2 parts olive oil
8) Clean your
microwave
9) Keep your flowers looking fresh picked with 2 tablespoons lemons juice, 1 quart of water and 1 tablespoon sugar
10) Get sparkling windows using 4 tablespoons lemon juice to half a gallon of water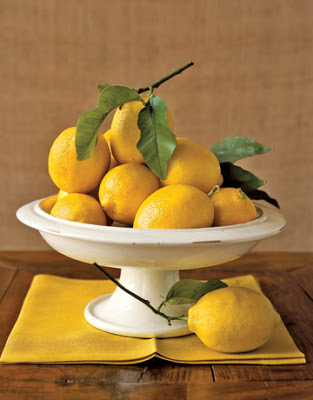 11) Make a
lemon candle
12) Deodorize your hands after a bout with garlic or onion chopping
13) Make lemon sugar to give your sweetener a little zing (
recipe here
)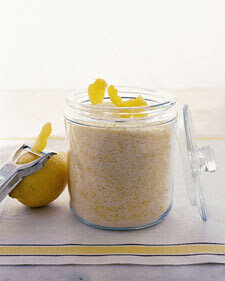 14) Use lemon juice as a way to keep the ants a bay instead of insecticides
15) Make your fire even cozier- add a few lemon peels to the flames and really light up the night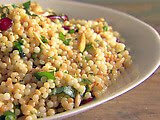 PS) My all-time favorite lemony recipe is
Mediterranean Salad
from Giada De Laurentiis- it's like a bowl of sunshine, really.
(images,
martha stewart living
,
country living, foodnetwork
)