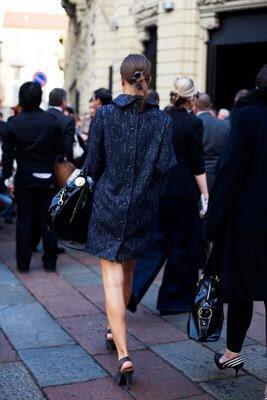 (images from the Sartorialist)
Angeline Neo encourages us to become a savvy woman of the times-- a 'recessionista' (i.e. a woman of style on a tighter budget). In order to do so, you need to be able to distinguish between "limited needs, but unlimited wants…that's the first step to becoming a recessionista." Secondly, you need to "be eco-conscious. And by that, [she] means economically, not just environmentally."

How? Rethink, recycle and revamp. Here are her rules:
1. Rethink your buys
· Check the impulses at the door. It's the difference between lust and love. You may think that top with the pretty bows is so divine now, but can that play well with the rest of your wardrobe beyond the season?
· If you can't see it being reworked in the years to come, you can live without it. And if you're not sure, walk away. I always say, if it's meant to be yours, it will still be at the store when you want it.
· Don't let impulse-buying trip you up at sales too. It can be a 50 per cent discount. But half off $500 is still a $250 outlay. Worse, if you're not going to get a lot of wear out of an item, that's $250 miss-spent.
· Think long-term and investment pieces that are going to stick around with you, through thick and thin. Classics, such as a little black dress, or staples, like a crisp white shirt, never fail a woman. (for another great article that touches on this- please see
Eco Prep's
great posts for the past couple days!)

2. Recycle what you have
· Thankfully, fashion is cyclical. And if you're a clothes horse like me, you're bound to have a couple of pieces sitting around that can be given a new lease of life easily with a change of buttons or shortening of hems.
· I recently dug out pants that I haven't worn in ages. Relatively new, they just needed alterations, which were done at the tailor's for $15.
· Savings aside, think of the sleek custom-fit and, hey, you're recycling too.
3. Revamp an old look
· Accessorise, accessorise, accessorise. It's the simplest and fastest way to update your wardrobe, especially if you're the sort who already wears a lot of chic basics.
· Bags such as a handsome croc envelope clutch may cost you a bit of money. But you know it looks sharp teamed with your power suits and is just as sophisticated when paired with silk trench dresses. It's a look that works, season after season.
·
Statement bling
helps too, such as bold cocktail rings that add a dose of color to a basic monochromatic look.
· What's very in at the moment too: Cuffs. Seen on many of this season's runways, like at Yves Saint Laurent and Bottega Veneta, the cuffs feature huge semi-precious rocks, adding decorative polish to the austere fall fashion.
· Another favorite of mine are sunglasses. I have a whole drawer full of them, in various colors. They double up as headbands too.
In the spirit of
this
article I've attempted to follow the 3R's : Rethink, recycle and revamp. I dug my old belt from
Fornash Designs
out of the closet and threaded a vintage scarf through the loops to produce a whole new look. I felt very recessionista and scored lots of compliments on the look. The 3 R's work!